your friend wants to see life aquatic, and your first reaction is, "oh that's the one with that orange knitted seaman cap" and you think, I still need to knit myself one of those.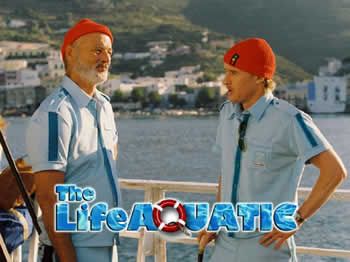 Sophie is felting. My strawberry/(tomato looking) hat is almost completed.
random
Friday evening, our dishwasher blew one of our circuits out, so we lost power in half the apartment. Yesterday the electrician came and replaced the breaker, so I can finally do all the dishes and clean up the house! Yay, the mess was driving me insane!
I saw Sideways finally this past weekend. We were going to see La Mala Educacion (the new almodovar movie), but Paulie wanted to see something lighthearted, and I was afraid Sideways would go away soon since it's been out for so long.
The theater was packed! We did choose geriatric time, (4:15 show on a saturday and everyone was getting senior discounts while we dished out $9.25 each... wah. where's the student discount?). I really enjoyed the movie. Like I stated on my food blog awhile ago, it was especially nice for me since the main character disses on merlot about as much as I do. And he loves pinot noir! After the movie, we (ervy, fu, paulie, and I) were in quite a wine-y mood.
We headed off to Whole Foods and BevMo, and we bought lots of tasty cheeses, bread, olives, a yummy duck moose pate, wine, mushrooms and scallops. We started off with a pinot noir (of course), but as we moved through the meal to the bacon wrapped scallops and wild mushroom fettucine, we drank a nice sweet reisling that Paulie's sister had brought him from a wine tasting trip in Oregon. We also watched
John Cleese's Wine For the Confused
that Paulie had recorded on his TiVo in October of last year. If you can find a copy of the episode (aired on food tv). I highly recommend it. It is not only informative, but quite QUITE amusing. And Brendan Fraiser (sp?) makes several wine appearances. My favorite part was when he went to an austrailian winery, and said he had to dress down. He then proceeded to rub dirt on his clothes before he entered.
Sunday Night we had a Fry things party which consisted of fusons deep fryer, lots of panko, calamari, oysters, tatertots, and mochi. On the non fryed side, we had some of Fu's tasty jambalaya and watched Maria Full of Grace which I had wanted to catch in theaters. Apparently, I was the only one who knew what the movie was going to be about. Everyone thought Maria was eating marshmallows on the title screen. Silly peoples. Btw, the movie fulfilled my expectations. I thought it was done well, and really relayed a story of colombian drug mules that wasn't set out to frighten or exagerate or hollywoodize, but tell it as it is, with all the dangers involved wrapped in.
In other news, I got my first jury summons. I was quite surprised, and I almost tossed the envelope to the junk mail pile before I noticed it was from the Superior Courts of San Mateo County. Getting jury summons makes me feel old. I've always looked at it as something adults get, and since I barely think of myself as an adult, it was quite suprising to get my jury notice.
This mustard has made my lunch sandwiches extra tasty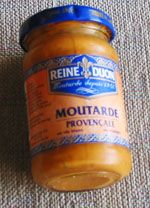 We brought it back from france, but we're gonna search for something tasty and equivalent over here when we finish it. Yum!! The curry mustard from france also makes me quite happy :)