Last week, my parents invited erv and I to the Lafayette Park Hotel's Duck Club where
Charles Krug Winery
was having a winemakers dinner with Peter Mondavi Jr. to host the festivities. Erv and I were under the impression that this would be a large group, but when we got there, we found out there were just 20 of us there to meet and hob nob with Peter Jr. and each other.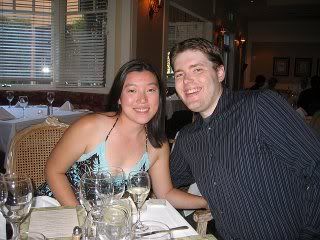 As soon as we arrived, we were given glasses of Charles Krug Sauvignon Blanc, Napa Valley, 2005. The wine was actually quite yummy. They made it after the New Zealand style, and it really was nice as the heat of the afternoon was burning off. We spoke with Peter Jr. about our nuptials next year in Geyserville, and the heat in the Valley while the Duck Club staff passed appetizers of foie gras, smoked salmon and caviar, and ceviche around.
Our first course was a Lobster Martini. No actual alcohol (thankfully... as we were going to have waaay too much wine throughout the dinner as it was). It was lobster and seaweed in a tomato consomme.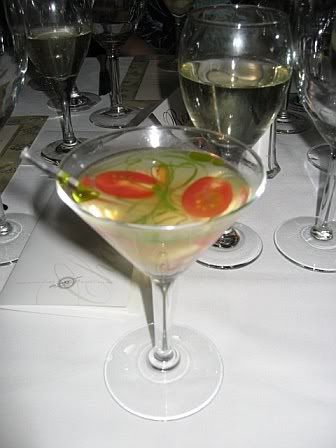 The consomme really was like essence of tomato. It was interesting, but definitely not something I'd seek out again...
We moved on to an Asparagus and Morel Mushroom Salad, with a Vin Blanc Vinaigrette to go with our Chardonnay, grown in Carneros, 2004.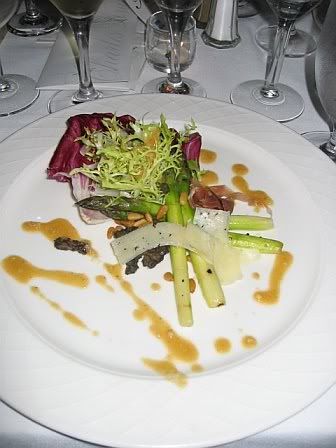 This dish was actually quite good. The wrapped prociutto and salty parmesean strip really lifted the dish up to yummy standards! Unfortunately, I did not enjoy the Chardonnay. This isn't that unusual... I'm not a huge white wine fan.
We moved on to a dish of Ginger Soy Glazed Black Cod, Braised Baby Bok Choy, with a Miso Consomme. This was paired with the 2004 Pinot Noir from the Carneros region. Despite the lore that only white wine goes with seafood, this was an outstanding pairing on the part of the chef. Actually, the fish was phenomenol overall, but I thought the pinot wasn't one of the better ones I've tried. It did complement the dish though.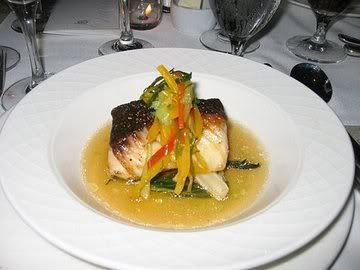 We cleansed our palate with a Rhubarb Mint Sorbet, which was way too minty/rhubarby... the texture was this weird thick kind of grainy substance. ick.
The next course was a Tamarind Braised Angus Beef Short Ribs, with Potato and Turnip Puree and whole grain mustard sauce paired with the 2002 Generations, "Red Blend" grown in the Napa Valley. I didn't actually eat this course, as I don't eat beef. I happily ate a second serving of the tasty cod though! The Generations wine is modeled after a Bordeaux blend, and this was my second favorite wine of the night. I have had better Bordeaux blends, but this was still good. I think, had I eaten the beef, it would indeed have gone well.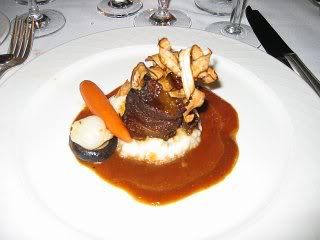 We started out our desserts with a humboldt fog cheesecake (cheese by the Cow Girl Creamery), with Pineapple Tartine, and Candied Walnuts. My dad took one bite of this and yelped in disgust. It was sort of a misnomer. You think cheesecake and you take a really big first bite. The cheese is not sweet and a bit pungent. It was okay with the pineapple and candied walnuts, but still it was difficult to finish.
The saving grace of dessert was the last course. The Duck Club Pastry chef must be praised. This was absolutely amazing... a Treasure of Basil and Strawberries with White Chocolate Basil Mousse and Strawberry Gelee on a Red Peppercorn Sable Disc. It was so tasty. What an interesting combination of flavors! It was delightful! So delightful, that we all were halfway through scarfing it down before we remembered to take a photo!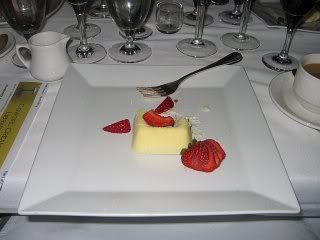 They served it with their Zinfandel Port from the Napa Valley. Peter Mondavi Jr. didn't know too much about ports, unfortunately, and couldn't answer my questions as to how it was processed differently from the ports of Portugal. I didn't like it that much. They mixed different vintages together to get young sweet flavors with a more complex older vintage. Unfortunately, I just didn't feel like it came together well, and it was a little cloyingly sweet.
One of my favorite parts of the dinner was when ervan asked Peter Jr. about the labor union strikes going on in the Mondavi winery. Peter Jr. absolutely clammed up. It would have been interesting to hear his side of the story, but apparently, he just wasn't interested in speaking on it.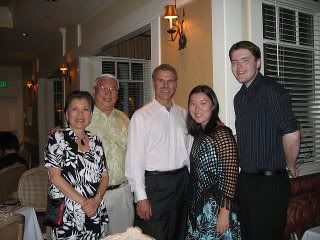 My parents, Peter Mondavi Jr., and erv and me