Tara
from Alaska sent me a wonderful tea swap package TWICE! The first one got lost in handling, so being the excellent swapper that she is, she happily put together a new one!
I loved opening up the package and smelling delicious flavors of cinnamon! In fact, the wonderful smell was emanating from some Samovar Tea from The Kobuk in Alaska. Talk about surprising. I've never had tea like this before. It's black tea infused with cinnamon oil, clove, lemon, and orange peel! It's a sweet delicacy that I can tell will be absolutely wonderful in the Seattle winter on a wet day! (I do admit I tried the tea as soon as I popped open the package. It's really quite neat, but it definitely seems like something to savor in cold weather).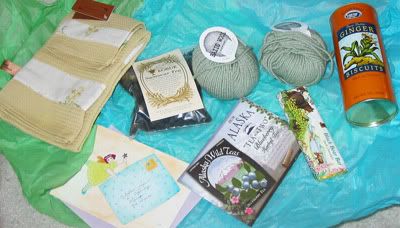 Seriously though, the most wonderful thing about the package was that Tara included lots of neat stuff from Alaska! Besides the neat Kobuk tea, I also received a package of Alaska Wild Teas "Tea for two" blueberry herbal tea, Black Bear Bar (a yummy dark chocolate made by the Chocolate Moose Candy Company), a lovely set of dish towels, two wonderful squishy balls of Bazic Wool in a beautiful sage color to make wrist warmers, and some yummy ginger biscuits!
Thank you Tara!! I absolutely love everything!!