It's been sunny over here with spots of showers. And I've been feeling much better! Thank you all for your good wishes. And Thank you Secret Pal for the pick me up note! What a lovely flower! It was a great morning surprise.
On Friday I was busy running around between the psych dept and business school trying to get all my work done (which I did, yay!... well, at least for the day). I was trying to whiz through my stuff so I could make it over to Uncommon Threads in Los Altos which was having a sale (15% off all yarns plus 30% off some specially picked out yarns). Since the shop closed at 5:30pm I had to rush through my day. I did finish most of my stuff by 3:30pm, and I headed over for some
unhealthy
healthy yarn petting.
Uncommon Threads Review
This was the second LYS I've ever been to (the first being The Knitter's Studio in Menlo Park). It was a sale day, so this may not be as relevant to a normal shopping experience. Unlike the Knitter's Studio which is organized by color not yarn brand or type, Uncommon Threads had all of its yarns separated by brand (Rowan, Debbie Bliss, Jamieson, Crystal Palace, Plymouth etc) and within the brand, by type (kidsilk haze, biggy print, cork... can you tell what brand of yarn I was looking at??). Yarns are piled on bookshelves with big tags under them labeling the brand and yarn name which was INCREDIBLY helpful to locate certain yarns quickly. Items knitted in a specific yarn were placed next to that yarn for an easy view of how each knitted up.
Needles were on twirly stands (Addis, Clover, Susan Bates). And there were a multitude of buttons that I breezed by since I'm not much of a button gal. There was also a whole section for baby yarns that I breezed by (don't know anyone with babies yet...). In the back of the store was a long table with chairs where patrons could look at pattern books. The store always had a store copy of each knitting mag, extras were for purchase, and you could put your name down to be notified when a mag came in.
I had heard that the women who run the shop were a little unapproachable, luckily this was not my experience. Maybe due to it being a sale day, but the shop workers approached customers to see if they could be of any help. Customers can use straw baskets (available for purchase) to carry their yarn purchases around the store. I did not find these as readily available at the Knitters Studio, but I may not have looked very hard.
One thing for future notice is that on their sale days, they really do have limited stock of their good sale items. Many Debbie Bliss yarns were on sale, but most of the best colors had already been snatched up by the time I got there. Also, the 15% off normal priced items also applied to knitting magazines and needles, basically anything in the store (which was good).
the loot
Look at the cute bag they have! It has a sheep on it!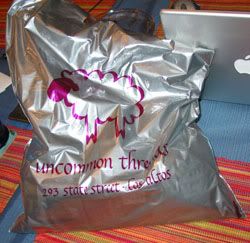 here's my purchases (minus a couple I have to keep secret)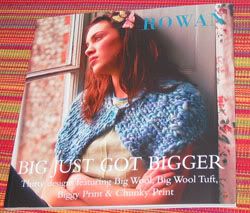 Look! It's the Rowan Big Just Got Bigger Mag!!! Yay!!!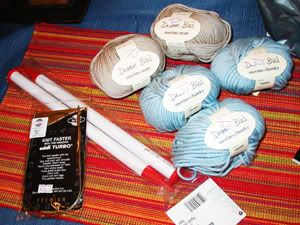 I got 2 balls of Debbie Bliss Merino Aran in a sandy color and 3 balls of Debbie Bliss Merino Chunky in a light blue color. I picked up my first pair of Addi Turbos Size 7! I'm so excited to try these since I've heard such good things about them. I also picked up some Susan Bates size 35 straights (would have gotten them in Addi's but I couldn't justify spending $20 on needles I wouldn't use very often) to use for Beau (in Rowan BJGB).
In other news, I finished the pair of armwarmers for my cousin's bday and gave them to her today: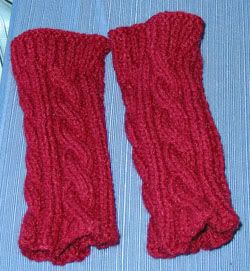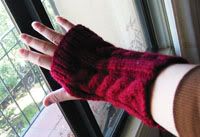 Have a great weekend!