And it's linked up with both my blogger and livejournal. Speaking of livejournal, I think I may have abandoned my food journal. I know this, because I've posted food related stuff on this journal... I've just mainly decided that I like my blogger better than my lj. I still follow many of my lj communities (mostly via bloglines), and my lj friends page (don't ask why I haven't hooked that up with bloglines... some how, it's just more manageable not to).
knitting
Thank you everyone for your kind wishes for my grandmother. I thought about all your kind words as I knitted my grandma 2 hats over the weekend.
One hat is a k2p2 rib in blue wool ease thick and quick, and the other hat is a white hat in carons simply soft with thick and quick intarsia. I realize I should have taken the picture straight on so that the intarsia character wouldn't be so crunched, but oh well. These hats are off in the mail today so grandma should have a warm head in a couple days.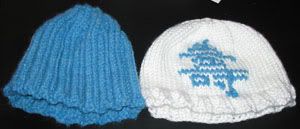 The knit in on Friday at
Nathania
's house was excellent! I had so much fun, and I finally met a few of the bloggers I read! I did not bring my camera,
because I am a bad blogger
, but
Nancy
and
Jewel
did! You can see their pics of the event on their sites. There was lots of yummy food and great knitting. I was so inspired by these amazing knitters with major sweaters on the needles! Check out
Spinnity
's neat socks (there's a pic on Nancy's blog) that she wore to the knit in. I loved the bright colors, and I think that is the most I've looked at anyone's feet ever!
I tried to visit Creative Hands yesterday (I was craving a yarn shop, and we were heading north, otherwise I would have wanted to check out the one in Saratoga), but it was closed. To date I have only been to one real yarn shop (not a michaels or joanns or online retailer), the one in menlo park that i can't remember the name of off hand.
other
Happy Anniversary Ervy!! (2 1/2 yrs of dating, yeah!)