I just whipped up some chinese sausage, onion, and egg fried rice for lunch. Nummy. Happy tummy.
knitting
ervy has urged me to knit his wristband up again now that we're home. I knitted it in H town for the first time to try out intarsia, but I used larger needles than called for and so the wristband was taller than we would have liked. I'll probably whip it out today while I study, and I'll post pics tomorrow.
I signed up for
Secret Pals 4
hosted by Jacqueline of
Norge Thingy
. I'm so excited!
I also found out I was accepted into the FiberRAOK ring!!! YAY! I've been wanting to be in the ring forever so I could gift fun knitty gifties to people! Unfortunately, when I signed up originally, I used some horrid permutation of my old email and new email by accident, so I didn't get the yahoo group invite yet, but I emailed some of the mods so I'm sure it will get worked out.
I think I will join the crazy fried breakfast knit along. I probably will only do the purse, and I am hoping I can replace that large sausage on the side with bacon. That big sausage looks a little poopy to me. Thanks for the encouragement all!
spinning
Yesterday was dye day at my house. I had finished spinning ALL of the Alpaca/Shetland roving in my stash, so to the dyepot it went! I still have one more skein to dye today. And plying shall be had!
I did finish the Elvira hair yarn now called EGL Affair. I plied the yarn with a white boucle and black thread with ivory pearlicized beads.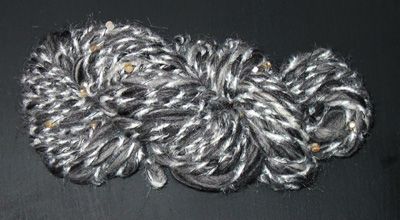 Another skein is drying right now, so I didn't get the greatest photo of it. But it's the merino I first spun up on my wheel. I dyed it bright green (almost neon), and then I plyed it with hot pink angora yarn and bright pink and purple feathers! I think this yarn is sooo fun and spunky. I call it Punk Girl Fashion. I'll post a better pic tomorrow, this one is coming out desaturated on my monitor.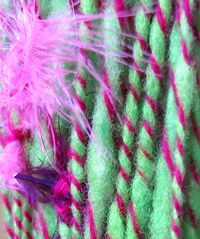 Lauren
asked how I like the Spinning Designer Yarns book. I read a lot of it in H Town before I could try anythign on my wheel. The author does say in the beginning that the book is not meant as an instruction on how to spin yarn (for that there are the great web tuts like
joy of handspinning
). The book actually teaches you different techniques that you can incorporate into your spinning. She explains how to get lighter airy yarns or spin in fun things into your yarn like feathers or beads and keep them secure. She has sections on color inspiration and creation that seem like they would be quite useful if I had some carders.
I found the instruction very useful. I did wish they had more diagrams of how to do certain techniques. Instead it seemed there were pictures of yarns completed to show what the different techniques can do, but no pics of the techniques themselves. Overall, I like this book so far, and would recommend it for reading.
other
In other news, I can now leave my house because I got my house key back from Adam. I've been confined here since I couldn't lock the house when I left without my key. But now I am FREE!
Adam, Emi, and Fu Fu came over last night for dinner. I tried a curried coconut chicken in my crockpot based on a recipe from Woman's Day magazine. It was alright, but it would have been better had it had the okra it was supposed to have. I plan to make rice pudding in the crockpot next!
We also played Mario Power Tennis on the gamecube which was super fun. Although, I thought it was a bit unfair that the characters could do these cool special moves that made it so that they could reach the ball when they weren't even near it. The moves were pretty neat though. My favorite move was Boo's. He would split up into many many boos so he could hit the ball from anywhere.