knitting
sophie has been felted. This is the first felted item i've ever made. Honestly, I was holding my breath wondering if it would work. I knew the yarn i used was 100% wool, but it was recycled from a sweater I found thrifting, so I didn't know if it was superwash or anything.
Of course had I swatched, I could have found out, but I put that off, deciding I could always sew a fabric lining if it didn't felt...
anyway, here she is, sans handles... I still need a grommet punch to finish her :)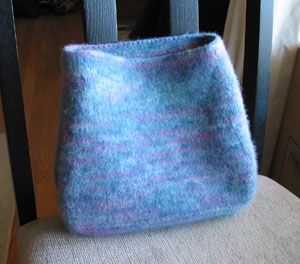 I also finished the strawberry hat as seen here modeled by the lovely blue stuffy.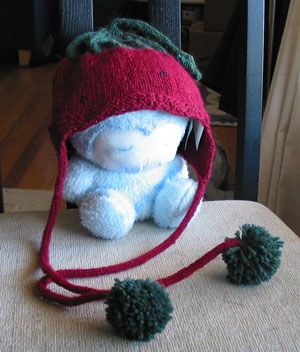 Honestly, it's much cuter on the stuffy than on me. I look sort of toolish. I'm going to blame it on lack of makeup.

spinning
Here's one of the yarns I spun up yesterday. Her name is Fire and Brimstone. She's plyed with singles from the fire roving I posted earlier and the elvira hair roving. Stuffy's foot got in the way of my picture...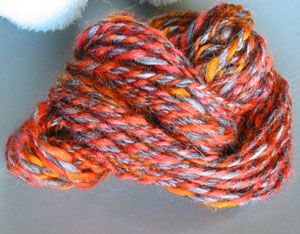 The second yarn I spun is drying, I'll post it tomorrow along with pics of my new green and yellow roving that came in the mail today! Yippee for wool!
random
I made the best cinnamon quickbread/cake thing yesterday. Ervy LOVED it. He said it's like the one his grandma used to make, except it's better! Hear that?! Better'n gramma's cake. Woohoo!

I used a recipe from allrecipes.com, altered slightly.
I was going to use the recipe for
Orange Cinnamon Coffeecake
that Julie posted. Her pic of her coffeecake is gorgeous!, but I have no oranges for zest, and I was too lazy to go to the store.
Here's the recipe I used with all my alterations:
Ingredients:
* 2 cups all-purpose flour
* 1 cup white sugar
* 2 teaspoons baking powder
* 1/2 teaspoon baking soda
* 1 1/2 teaspoons ground cinnamon
* 1 teaspoon salt
* 1 cup buttermilk
(I didn't have this so I made soured milk using 2% milk, heated in the microwave for 1 min, and added 1 1/2 tablespoons of lemon juice)
* 1/4 cup vegetable oil
* 2 eggs
* 2 teaspoons vanilla extract
Topping:
* 2 tablespoons white sugar
* 2 tablespoons brown sugar
* 2 teaspoons ground cinnamon
* 4 teaspoons butter softened
DIRECTIONS:
1. Preheat oven to 350 degrees F (175 degrees C). Line one 9x5 inch loaf pan with parchment paper on bottoms and sides.
2. Measure flour, 1 cup sugar, baking powder, baking soda, 1 1/2 teaspoons cinnamon, salt and mix together.
3. Mix together buttermilk, oil, eggs and vanilla in a separate mixing bowl.
4. Combine dry and wet ingredients slowly, and mix until just combined.
5. Pour 1/2 of batter into prepared loaf pan.
6. Combine 2 tablespoons white sugar, 2 tablespoons brown sugar, 2 teaspoons cinnamon and butter, mixing until crumbly.
7. Sprinkle 1/2 of topping over smoothed batter in pan. Pour rest of batter into pan and smooth the top. Sprinkle the rest of the topping over the top of the batter. Using knife, cut in a light swirling motion to give a marbled effect.
8. Bake for about 50 minutes. Test with toothpick. When inserted it should come out clean. Remove bread from pan to rack to cool. Take off parchment paper from sides and bottom of bread.
9. Make your favorite powder sugar icing to drip over the top (optional). I whisked powdered sugar and milk together to get a nice consistency and dripped it over the bread while it was cooling on the rack. Be sure to catch drippings on wax paper or foil to avoid making your counter sticky.
This is so yummy! I'm hoping to make a second loaf to bring to nathania's knit in on friday.