adam
,
emi
,
paulie
,
fu
,
ervy
, and i caught a late 10:55pm showing last night. (wow i love that all my friends have blogs that i can link to!).
Some where we had heard that people didn't like Life Aquatic, but we thoroughly enjoyed it. I especially loved 1) all the orange/red hats, 2) the fun rendered animals, 3) the dollhouse style shooting of the ship.
Before hand we ate at Machu Pichu, my favorite Peruvian restaurant, in San Mateo. I still have nummy Carapulcra leftovers for lunchy (it's a pork and chicken stew with peruvian potatoes and rice). I need to look up a recipe for that somewhere... There's one
here
. Where do i get freeze dried potatoes? Here's a recipe for
Aji de Gallina
that looks tasty.
OK, and what was up with the temperture last night in the Bay Area? It was soooooo cold. I was glad I had my fleece, strawberry hat, and arm warmers, but i was still cold! Yeah yeah, i know, typical californian. It gets a little chilly and I'm freakin' out. It's not like it's snowing, but I really can't take seasons. I really just am unable to handle extreme cold or heat. I'm a weinie.
knitting
Thanks for the lovely comments on my strawberry hat and yarn. Asha the kitty also loves the pom poms on the end of my new hat. Whenever I bend over she gives them a good WHACK! My friend emi also likes playing with the pom poms. Anyone up for a game of tetherball around my head?
I forgot to do the celebratory post for the strawberry hat and sophie. I've been seeing it all over the knit blogosphere. Well, pretend the title to my post yesterday was
MY FIRST FO'S OF 2005!!!!
.
I've got the next knitting projects laid out.
1. knit armwarmers for my cousin's bday
2. knit black hat for pastor to send to
stacey
for a request made my a fellow blogger, a
pastor
, for some knit hats. She's collecting them to send to him and his congregation.
3. finish a scarf i started in houston
4. knit a scarf with my purply blue handspun
Here's a pic of the armwarmers I started for my cousin. She goes to Stanford so I figured a nice close to cardinal red would be good.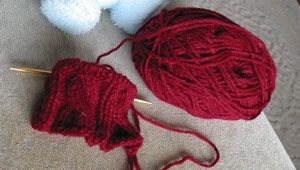 I wanted to use a pattern from my knitting pattern a day calendar for the hat for the pastor, but I'm a little confused by it. It's the Jan 10 &11 pattern (for those of you who have the calendar) and it looks like this (I blurred out the pattern part for copyright reasons.
For those of you who have the calendar, there's a Pattern A and a Pattern B, do you knit those in the same row? or is it a choice, you use either Pattern A for the entire hat, or pattern B for the entire hat? I've also never done T3B or T3F, and I had to look up what it meant. For my future reference there's this nice
knitting abbreviations page
. I did cast on for the hat, and knitted 3 rows, and then I realized that although I thought I had been careful not to twist the fabric, I had twisted it as is a common problem when knitting in the round; although it's the first time it's happened to me.
And finally, a picture of the roving I got in the mail yesterday.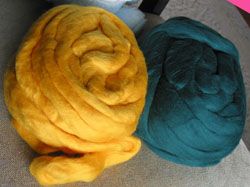 The seller said she thought it was from brown sheep (she bought it on sale at a shop that was closing). The colors remind me of a cal poly scrunchie and ex gave me once. If I knew someone at cal poly, these would spin up to make some excellent plyed yarn for a scarf. It's actually quite nice roving. I spun up some of the yellow yesterday. The fiber is nice and soft, and feels good running through my hands.
random question
do any of your cats bite their nails? My kitty bites her nails while she's cleaning her paws. I personally think she is trying to sharpen them into daggers. I trim her claws every week, and the next week they're still sharp little talons!