knitting
I had a lot of fun at the knit witters meeting today! I met some new people: Amber, Maggie, and Christine, and I had fun knitting and eating tacos leftover from a Chicano Studies Luncheon. Maggie showed us this CUTE pattern of a crocheted hedgehog! I <3 hedgehogs! I missed seeing Lourdes because she was giving lovely massages to knitters to raise money for the Stanford Relief Fund. We all had fun talking about stitches!
Look what I'm almost done with: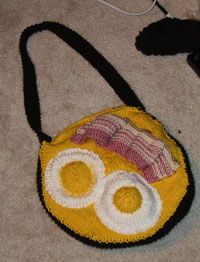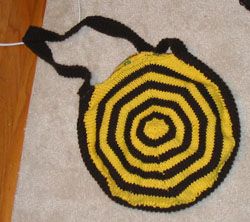 why yes, it's the fry up bag!!! The only thing left to do is sew in a zipper!
It even has lining. Searching my fabric stash for fabric that might match the bag, I found some yellow John Deere Fabric (I know, what the heck, why do I have this fabric?). So the lining of my bag says, "Nothing runs like a Deere"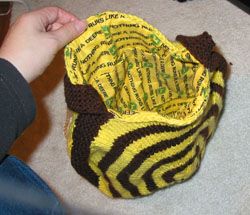 And for size perspective:
i've also picked up one of my old WIPs (a k2p2 scarf that I put down months ago) to have something to knit today. I may put it down again. Although I really like the yarn and how it knits up (it's a blend I recycled from a sweater and then dyed with kool aid), the stitch pattern bores me to death. the repetition. the repetition. the...
crochet
that's right folks! I did it. I sat down and learned to crochet. Here's an ugly little granny square as proof. I have nothing against granny squares, but this one just doesn't do it for me. I think it is because I couldn't keep my stitches even, so it just looks plain messy!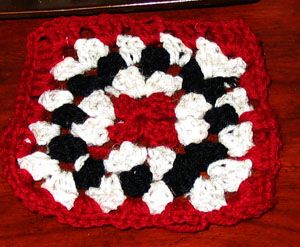 recycling
I recycled another sweater that's been on the pile to recycle for a while. It was a Jones New York sweater tank 52% cotton, 42% nylon, 6% metallic.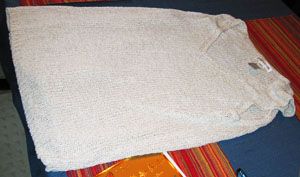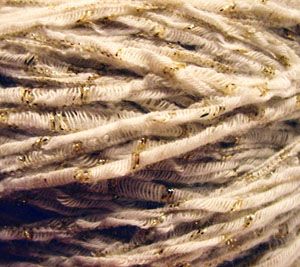 I'm thinking about dyeing it. I know nylon takes dye quite well, and I just don't know that I would use this in its white state... So I'm thinking blue, or maybe space dyed in multiple colors. I can't seem to decide. It's okay though, I would most likely knit this back into a nice tank, so I have a bit of time before I start that.