knitting
I finished the ruffle-like scarf yesterday evening. I tried it on, and immediately decided I didn't like it. Today, I'm feeling more kindly to it. My problem with it is that I feel like Grace (from Will and Grace) when she wears those silly ruffled shirts that can make her look clownish. I think I need to be skinnier to pull off this scarf. I even tried the nice plain black shirt to go with it so my upper body wasn't too busy looking. Bah! I'll wear it anyways...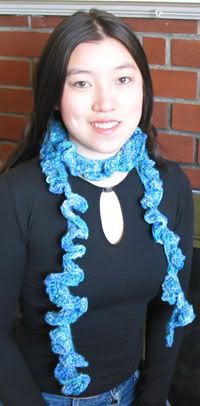 and dude! what's wrong with my expression in this picture? I didn't even know I could raise one corner of my mouth like that when I smile. Is part of my brain going dead and causing my muscles to relax on one side? sheesh. I blame the lipstick. It was new. I took it off immediately after the photo. Already I feel a million times better!
Today the Fry Along officially starts up
even though I already made my bacon and egg
so I cast on for one of the sides of the bag while I was on the bus to work! I contemplated doing a different sort of bag (more square) and putting the fried goods on that, but I didn't really feel like that was in the spirit of the KAL. Plus, it looks more omelety in it's round state.
Look what came in the mail from recent ebay purchases!
Now don't be jealous now. This is the first time I've had such luxury...
oh yeah it's my kidsilk haze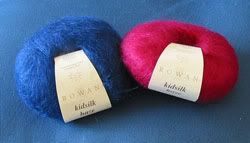 I'm thinking of doing a scarf or a loose cowl that can be pulled up over my head.
Anyone have any good patterns they could recommend?
I also got a huge ball o' goodness... er roving. and some size 3 dpns (the smallest needles I own yet!!)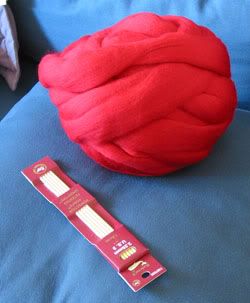 spinning
I happily got a chance to spin a wee bit while ervy ate dinner last night. I finished up the green on the bobbin, and swapped out to some roving I had dip dyed on the stove. So this roving: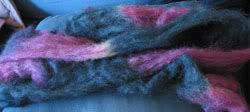 became/is becoming this yarn: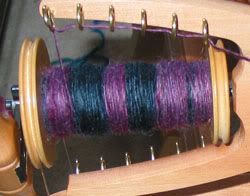 it's all self stripey and exciting... or at least I think it's exciting. but I may be turning into a spinning geek. shh... don't tell anyone!
RAOK
Just as I started to type this out, I got an email telling me that Lisa Brown (
The Slip Knot Pixie
) RAOK'd me with a gift certificate from Adagio Teas! Thanks Lisa! I've been eyeing that ingenuitea device. nobody tell ervy. he barely reads my blog anymore so I don't worry too much he'll see this. I want it to be a surprise as I know he was interested in the Ingenuitea as well! Thanks Lisa!!
On a final note, Asha has been irritated with me for not posting enough pictures of her here. Umm... vain much? Look at that face... oh yeah she's plotting something