knitting
umm.. I've knit one row of the neverending cowl in the past 3 days. It will never ever finish.
While I haven't done much knitting, Purlingswine has made a wonderful picture slideshow of how to do an i-cord bindoff!! See it
here
Knitters Review came out with their
review of the new Knit Picks line
of yarn! Very helpful, I think I'll order some if I'm able to hold back my expenses at stitches west (wishful thinking i'm sure)... It's just so damn tempting with the amazing prices for wonderful fibers!!!
spinning
I got to show my friends how I spin when they were over for Chinese New Year dinner. It was embarrasing though when I started the wool on the leader and didn't let enough twist roll in before I let the wool go too far... so the leader broke away from the wool :( After my first stint and performance anxiety, I fell into rhythm and started spinning up a lovely red and yellow yarn. I finished it tonight, but you won't get to see it till later this weekend or Monday.
You do get to see the yarn I made for the theme of
fiber friday
.
The theme was "Good Morning". So I sat around and thought about what my ideal good morning was. Well I LOVE those mornings ervy and I had our last year of college, when we'd arrive on campus, get some yummy Torrefazione coffee from the Cubberly Cafe, and read the days newspaper...
Thus inspired my yarn "coffee break"
Here's my coffee with a bit of nonfat milk. I spun in some newspaper printed cloth strips too!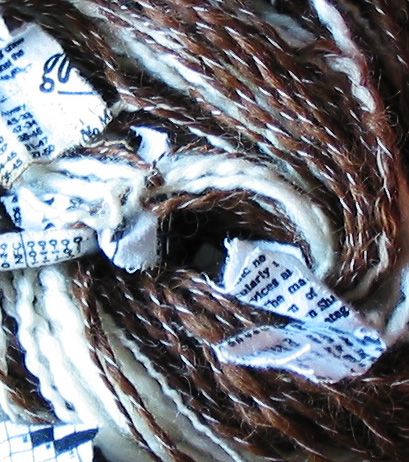 whole skein: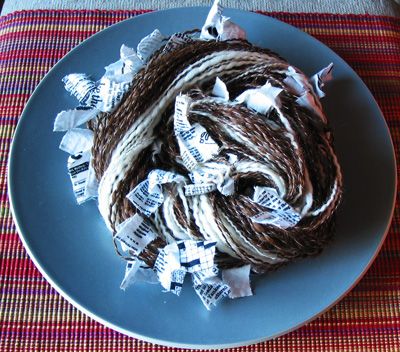 once more with feeling (buffy musical reference here!)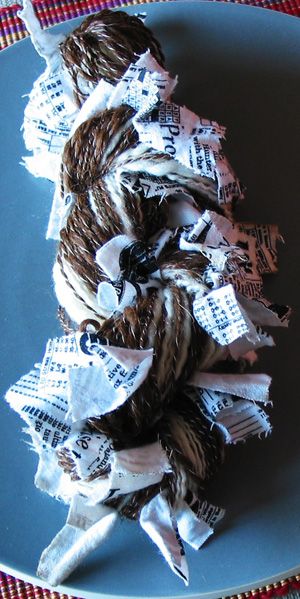 RAOK!!
My new friend Lourdes from the
Stanford Knit Wit group
surprised me today with a gifty! She gave me an amazing lavender filled satchel to make my yarn projects smell DIVINE! She also thoughtfully gave me a wonderful hello kitty keychain wallet to match my needle holder! It really made my day! I had started the day off with a migraine and sore back, but this was such a lovely pick me up! Thanks again Lourdes!