Stitches West was amazing! So much fiber... so many pretty things. I just walked around in absolute awe, petting yarns and fibers! I saw
Sheetal
when she was in line at the store with the knitted corset (so cool btw). I didn't take any pics at stitches because I forgot my camera (ervy said I'm a bad blogger.. in jest of course... we all know I'm the best ;-P )
I was on the lookout mainly for roving to spin since this is one of my only times to be able to see them in person... Although the places I bought the most roving from are located in SF (
Carolina Homespun
) and North of Berkeley in Kensington (
Deep Color Studio
). So I actually CAN go to these places and check them out sometime!!! Morgaine of Carolina Homespun was very encouraging for me to come out to one of their spin ins or take a class there...
I really really liked the vibe at Deep Color Studio. The colors were great, the people were really awesome too! And the prices were very reasonable. They're having a free spinning and Felting party on Saturday March 5th 11am-4pm.. .I'm thinking of going :)
The Haul
Top two are Handpainted Tussah Silk Sliver from
Crosspatch Creations
Middle Left: dyed mohair curls from Carolina Homespun
Right Middle and Bottom: Handpainted Silk Caps from Crosspatch Creations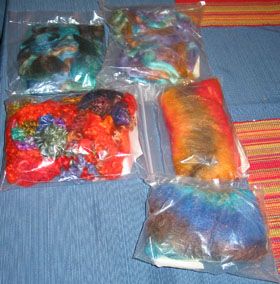 top: handpainted Wildfoote Sock Yarn
middle: 4oz Blended Wool/Nylon from Blue Moon Spinnery
Bottom: My absolute favorite roving of the day - Merino Wool and Tencel roving from Blue Moon Spinnery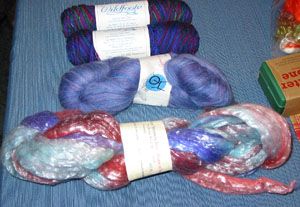 Top: Merino and Silk roving from
Angora Cottage
(the woman there tried to teach me the long draw...)
Bottom: A Sweater Stone to from Carolina Homespun to take pills off of my sweaters and knit items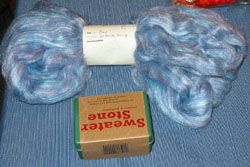 Top: Wool roving from Angora Cottage
Bottom: Felting needle set from
FeltCrafts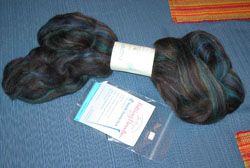 Top: Baby Alpaca (black is its natural color! No dye!!!) from Deep Color Studio
Middle and Bottom: Dyed Merino Top from Deep Color Studio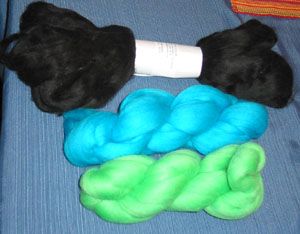 My huge ball of sherbert wool roving from Deep Color Studio. It's only 4 oz, but it's so light that I ended up with a ton of roving. They said it was from a pullworth (sp?) sheep. I need to look up the breed.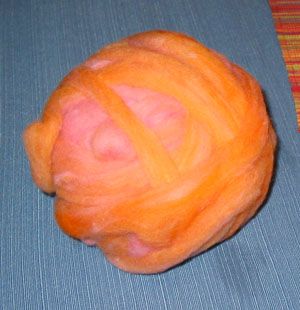 This is what put me over my budget... I went by a stall with a bunch of Manos skeins on a rug on the floor... They were on sale, so I bought 4 skeins, putting me $47 over budget :(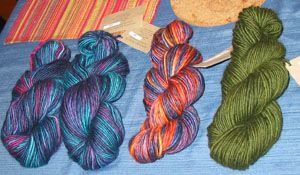 RAOK'd
Friday I came home from work to find a lovely Valentine's Day Card from
Diane
It's so cute. I love the little bear on top! She also sent me some Tazo Lotus tea which I am consuming as I type :)