We moved our wine rack in from the garage yesterday. Looks pretty good for $20 plus some staining and varnishing on our part... Now we need more wines! It holds 44 wines! I went out and bought 4 more pinot noirs last night (I sold some stitch markers so I felt I could spend a wee bit... too bad I spent more than a wee bit), but we drank one with dinner...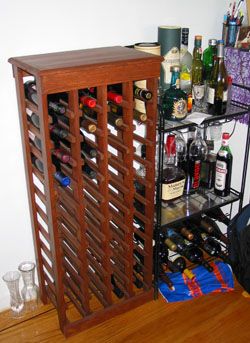 knitting
so the only knitting I got done was four more rows on my cowl. I'm determined to do at least 4 rows a day so this project will finish and not languish away on my knitting dresser. Now I know you're thinking, she's not going to show a pic of this every time she blogs until it's done, right? Haha... silly people... of course I am! Here's a close up of the lace pattern in the cowl (now 2" long)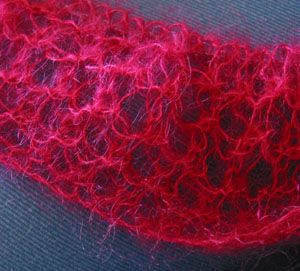 In spinning news, I spun up the rest of my dip dyed roving, I just haven't set the twist or balanced it yet. I haven't quite decided whether I want to ply it or use it as a single...