Knitting
Today's Vintage Pattern is for the card player in your life :) Poker card placemats and napkins to knit! (speaking of poker, has anyone caught the series Tilt on ESPN? I really like what we've tivo'd so far).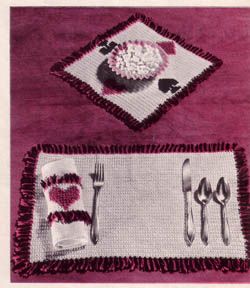 I purchased the new Interweave Knits (mainly because one of my blog friends is in it on the article on recycling yarns/sweaters). I normally really like their patterns, but this time, I have a hard time seeing what I might knit out of it. I suppose I should have glanced through before buying it, but I'm kinda silly like that.
Look what I found at the GoodWill. I think it's handknit and crocheted since I couldn't find a tag anywhere. the sleeves and flowery things on the front are crocheted. I love the color and the size, but I'm not crazy about the neck. I'll leave it for now, but I'm semi tempted to rip the neck out and re knit a smaller one for it (the turtleneck just doesn't suit me). Sorry for the poor angle on the photo. I'm such a lazy butt that I couldn't be bothered to walk to the side of the room with the tripod. So it's taken with the camera sitting on the table.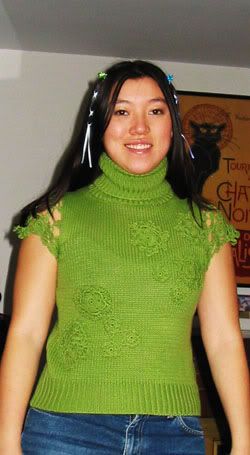 RAOK!
I got home and found a cute M&M postcard from
Illanna
. She had lots of wonderful things to say about my yarn... and who wouldn't love that type of postcard!! :-P
Thanks Illana!! You definitely helped perk up my day!
meme
why? because I was just darn curious to sit down and list out which I've been to!
bold
the states you've been to,
underline
the states you've lived in and
italicize
the state you're in now...
Alabama /
Alaska
/
Arizona
/ Arkansas /
California
/ Colorado /
Connecticut
/ Delaware /
Florida
/ Georgia /
Hawaii
/ Idaho /
Illinois
/ Indiana / Iowa / Kansas / Kentucky / Louisiana / Maine / Maryland /
Massachusetts
/ Michigan /
Minnesota
/ Mississippi / Missouri / Montana / Nebraska /
Nevada
/ New Hampshire /
New Jersey
/
New Mexico
/
New York
/ North Carolina / North Dakota / Ohio / Oklahoma / Oregon / Pennsylvania / Rhode Island / South Carolina / South Dakota / Tennessee /
Texas
/ Utah /
Vermont
/ Virginia /
Washington
/
West Virginia
/ Wisconsin / Wyoming /
Washington D.C
/
Go
HERE
to have a form generate the HTML for you.