Am I weird for being about the only knitter out there who isn't knitting/preparing to knit/has already knit Clapotis? I feel odd. I have liked some of the ones I've seen, but in terms of shawls, I'm still waiting on doing the flower basket shawl from IK once I get through some of my current projects. I also really really like the AbFab Colinette Scallop shawl, but I don't have the funds for that, so I may just do a feather and fan shawl with my own yarn. Does anyone have a good scalloped shawl pattern they know of?
Today's vintage pattern: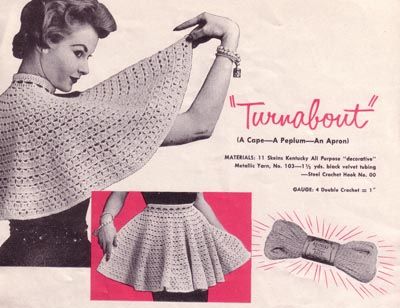 Today I was searching everywhere for my 10 1/2 size circulars so I could start on a shawl. I was going insane. Then I realized that those circs currently have my cowl-to-be-in-a-bajillion-years. I thought about making a special trip to a LYS to get some Addi's, but I just didn't have time today :(
I stopped by Target to try to find these Hello Kitty Shoe Charms for stitch markers that
PurlGurl
picked up recently in the shoe section. Sadness! I couldn't find them ANYWHERE! I looked in the shoe section, the toy section, the birthday party section, the kid's clothes section, the jewelry section... alas, no Hello Kitty stitch markers for me :( S'ok. I'll live :-P
random
I went to Heidi's Pies last night with ervy, Nate, and NickChan. Mmmm... pie. Nothing beats 24 hour pie. I had banana cream. Ervy brought home a whole key-lime pie. Apparently I was supposed to ask nate if he was dating anyone since I ask him every time I see him. He expected me to ask, and I didn't even think about it. oops! He was quite excited to tell me that he could finally say, "yes, I have a girlfriend"
Hey does anyone know if I have to go to the post office to send a letter Airmail to Canada? Do I need a special Airmail stamp or can I just write the address on and put on the correct amt of postage?