Another one from the Vintage knitting pattern scans I've done.
Someone should have thought better about the naming on this one. Really.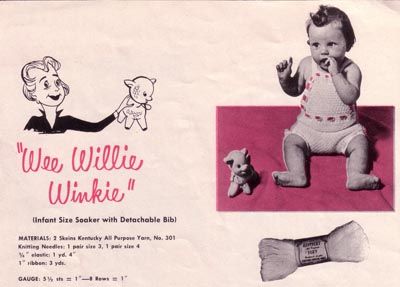 I forgot to mention that I used my new Addi turbos for the first time over the weekend on my fingerless gloves. I LOVE them. I think I'll be adding more to my needle collection eventually! They're much faster to work with!
Yesterday was nice. I had the day off, but ervy didn't. So I went out to menlo park to browse a couple used book stores. I was really searching for vintage knitting books, but no such luck was had. I did pick up a couple books with copyright free art nouveau frames and borders and designs, a book on celtic knots and lettering, and a design book on color.
Afterwards I walked over to the Knitter's Studio to check out different knitting mags and books. I thought I wanted the Rowan Ribbon Twist collection book, but after looking at the book for the umpteenth time, I decided that it wasn't the patterns I liked so much as the yarn. I ended up picking up Stitch n' Bitch Nation (I have to say I love the armwarmers with a trailing leaf pattern on them! I'd do it in solid colors). I'm actually excited about a few of the patterns in the book. I dislike a whole bunch of the patterns, but there are some ones that will make me happy I think.
random
Last night I tried the new Malaysian restaurant in San Mateo with paulie, minger, emi,adam, ervy, and fu.
all i can say is "eh" and "
$$$$
eh" if I could remember the name of the restaurant, I'd tell you it so you'd know it wasn't worth going to. I think it was across from Little Sichuan.
Also a tad annoying at the restaurant was that we had two servers who apparently didn't communicate with each other. So one would come by and ask us for our drink order, we'd tell her we weren't ready, and the other one would come by a minute later asking us the same thing. After one took our drink order, the other came by and asked for our drink order. Same with ordering the appetizers, and the main courses, and dessert. You could say we had double the service, but that really wouldn't give you an accurate picture.