Lisa of
Plath's Adventures in Knitting
pointed out on her blog that now elann.com is offering BAGS of their Peruvian Highland Wool for $18. *Gasp* elann just really wants me to break my yarn diet I think. But I've been so good! I will resist, but if you can't resist,
get your wool here
*cry* I'm weak. before I even finished typing this post, I bought a bag. I went to go look at the link, and then I thought, "well, IF I did buy a bag, what color would I want..." Of course the color I would have wanted (oxblood) only had 12 bags left! Ohno! that means it could be gone soon... AND you get the picture.
most of it will go toward making the yarn harlot poncho I've been wanting to knit.
wanna see how my dye job turned out?

looky: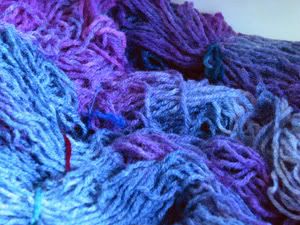 and here it is hanging up to dry




I think I'm going to use it to make a sophie bag.