I'm knitting a new hat with the mondial merino wool yarn that I got from Knitter's Studio on Halloween. I really like this yarn. It's so sproingy or stretchy. Plus it's uber smooth and buttery!
I'm knitting on circulars but not in the round because it's too long of a circular.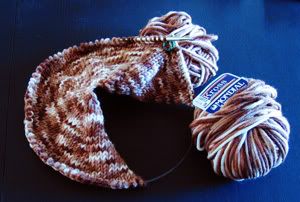 I also made some k and p stitch markers because I am sick of putting my knitting down and forgetting if I'm on knit or purl. I hate tinking. It's so damn tiresome. Any way I just made the markers out of some silver jump rings and alphabet beads I had lying around.