I found this sweater at my local thrift. It was an Ann Taylor handknit sweater made of 61%wool, 30% acrylic, and 9% nylon. I loved it's feel and colorway so frogging had to happen.

Before: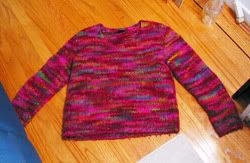 After (these two skeins are the front and back, the sleeves are smaller):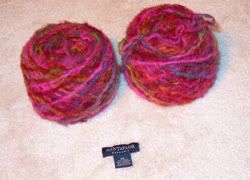 This sweater really showed me again how necessary washing recycled yarn is. When I was frogging, my friend Paulie was over (he's horribly allergic to dust mites). He started having a horrible allergic reaction (sneezy, sniffly, etc). So always wash your recycled yarns!