twas a fun and busy holiday. I got some craftin' done that I've been meaning to take pics of.

I started the flower wash cloth from weekend knits. (I just noticed that asha has been chewing on the corners of this book :( ) I'm using Bernat cotton tots yarn in blue for the petals and yellow for the center.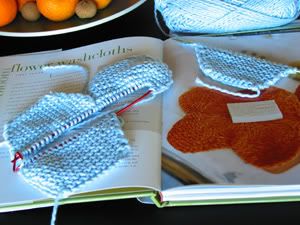 I also started Sophie with the yarn I dyed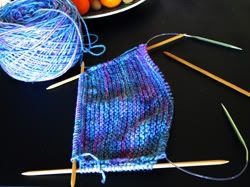 and close up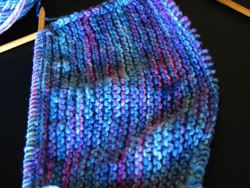 I really like how the dyed yarn colors are knitting up!

I also recieved my elann order of oxblood colored peruvian wool yarn.



and I started a fun fur scarf for my mom who asked me to knit her a scarf with "fur yarn" like the ones she saw at a holiday fair. It's done with lionbrand fun fur and caron's so soft. By accident I grabbed one skein of fun fur and one skein of joann's brand cello yarn of the same color. The cello has longer fur, and if I knit another scarf like this in the future, I'd probably want to use just cello.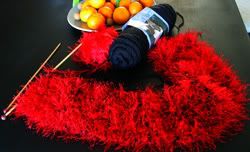 I met Paulie's sister, Erin, and tried to teach her to knit. This is the first person I've ever tried to teach to knit, and I don't know that I did a very good job. I only covered casting on and the knit stitch to get her started. She then went to Michael's with Paulie to buy yarn, needles, and a knitting book for her flight home to Chicago.



I made this necklace for my secret santa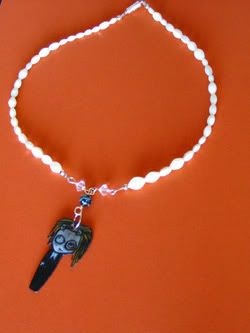 my secret santa likes the comic Lenore, so I made her a Lenore pendant from shrinky dink plastic and some vintage lucite beads.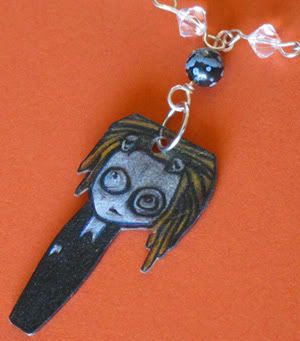 btw, shrinky dinks are sooooo much fun.