1. Is ignorance fashionable?
"At least, unlike Paris Hilton and her ilk, the Dumb Blonde of '50s cinema had a firm grasp on one thing: It was cool to be smart. She aspired to read good books and be friends with intellectuals, even going so far as to marry one. But now another famous beauty with glowing skin and a powerful current, Sarah Palin, has made ignorance fashionable".
(
Maureen Dowd, NY Times
)
If this were true, it'd be so sad. But do we really think ignorance is sexy? What about the whole trend toward looking smart -
geek chic
? People are
geeky and proud
! I've always found intelligence really attractive, but I have a tendency to be totally old school like that.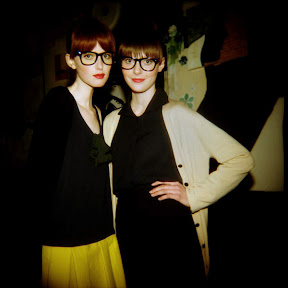 image by
Nina Westervelt
2. The continued discussion of what women wear on the way to power...
"They are for the most part "still walking a tightrope," said Ms. Jahnke, who advises female candidates to adopt a high-quality, low-key wardrobe befitting a corporate chief executive. "You have to look approachable and, at the same time, look like you can handle the job," she said. "
(
Ruth La Ferla, NYTimes
)
*sigh* I'm still bothered that we discuss fashion of women seeking leadership roles. Is it too feminine, too masculine? ugh.
Maybe we need to change what's valued in the leadership role
to make it more available to women
3. H&M released pictures of a few dresses from its collaboration with Lanvin
I'm interested to see what these look like IRL. What do y'all think of these dresses? Those big poofy one-shouldered dresses remind me of the Leifsdottir Blooming Brilliance blouse.
Although I was pretty in love with the color and print of that blouse, these H&M Lanvin dresses might be easier for more people to wear because the black color and solid pattern tones down the one-shoulder-poof look :)
4. Glee "fashion shoot" in GQ
see GQ images here
.
[thanks for the link Oliver!]
Wow, I did not want to see the Glee characters spread like this. Did they really need this to boost ratings? I guess, at least it wasn't
Emma Pillsbury
in the photos. I know I shouldn't be surprised that GQ has images completely objectifying women (and of course Finn is fully clothed). Rachel's pics are the raunchiest of the bunch, and it reminds me of another Rachel with an uncomfortable photo shoot. Remember, the over-the-topness of FHM's Rachel Ray shoot? It is forever buuuuurnnnneed in my mind for being a bit too disturbing :(. And in writing this blurb, I found that I wasn't the first to associate the Glee and Rachel Ray photo spreads. See poll for which photo shoot is worse
here
.
5. More on the lack of plus-size women's fashion
"By the numbers it just doesn't seem right. Nearly 65% of American women are overweight, according to the National Center for Health Statistics, and of those, more than 35% are obese. Yet most designer collections end at size 10. And on hundreds of high-fashion runways at international fashion weeks this month and last, ultra-slim models were wearing trendsetting designs that will never be manufactured in sizes to fit most American women."
(
Valli Herman, LA Times
)
The Cut finds that most design schools don't even teach pattern-making for plus-sizes
.
WHY NOT?? I'm sorry but women large or small can be chic and sexy.
[images from google of plus-size model Crystal Renn on the runway]
Well, for those who think that fashion is only for the skinny and models, I tell them to take a look at these beautiful and stylish bloggers (e.g.,
Young Fat and Fabulous
,
Fatshionable
,
Corpulent
). Designers should count themselves lucky to design clothes for these lovely ladies!
6. In preparation for the colder and wetter days of Fall and Winter, I've been stocking up on more new tights on ebay
And I thought I'd share a couple ebay sellers I came across :)
secret-seller
(DKNY and HUE stockings, like this
crochet-flowered tights
or this
black plaid pair
)
yenancy
(some fun patterned stockings like these
heart ones
or these
heart ones
, ok. I guess I like hearts :))
************************************
Don't forget to enter the Betsey Johnson Swag Bag & Anthropologie Gift Card giveaway
here
************************************