I'm still signing up for a new knit a long! The
Bunny A Long
, which I saw
Abigail
had joined.
I won't be starting a bunny this week, but I'm hopping err... hoping that I can knit one next week!
Thank you all for you wonderful words of support about my wrists and suggestions. I have been rubbing tiger balm on my wrists and forearms, and I will be looking into going to the Electronic Arts chiropractor - in between all the situps I'll be doing of course ;)
I have plans for when I return to knitting. I keep spotting things I want to knit! Did you know the new
Magknits
is out? I want to knit
this scarf
as I have never tried short rows before, and I think the effect is rather pretty.
other random
I completely forgot about the Oscars yesterday, even though I had planned to watch the fashions roll down the red carpet. I still caught a show though. Ervy and I were heading out for a late night donut run in search of donuts with coconut on them. Our neighborhood was out in full force watching a scene outside as we left. The fire department was busy hosing down a car that had apparently ignited while locked and empty. I was mostly amazed at how people came pouring out of the houses of our neighborhood to watch the going ons of the firemen.
vintage knit pattern of the day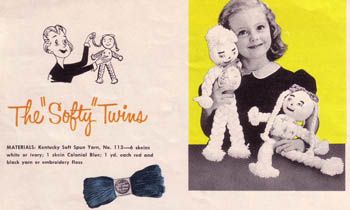 I just got a huge 1961 needlecraft mag from ebay. The patterns are interesting, but really, I find the advertisements to be the most interesting part. I will scan some in to show y'all, but the ads are much more descriptive than today, and like to throw buzz words of the day around like "scientific" as in, buy this "scientific blanket."
Speaking of magazines... Ervy was super nice and ordered me Interweave Knits and Vogue Knitting subscriptions to surprise me! What a great ervy-guy!
random question
Who is Rick James? Why is he freaky?