I've been keeping myself busy with work and other things so that I don't think too much about my lack of knitting. Last night I satisfied my crafty interests by dyeing some yarns I've been meaning to dye for a while. These were two new skeins of 100% virgin wool dyed with Wilton Icing dyes (handpainted on). Again, I'm really just so impressed with the vibrancy of the colors that result from this dye! These skeins remind me of summer by the pool, guess my heart is in the wrong season right now :)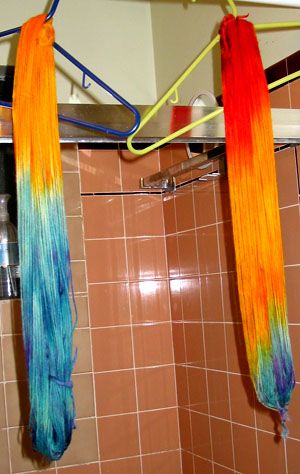 If you're looking for a tutorial on dyeing with Wilton Dyes, Jess at
Fig and Plum
found one
here
. I should emphasize that this tutorial does not show the way I use the wilton dyes. Perhaps next time I will do a nice photo tutorial of that. But I basically soak the yarn in water and vinegar until its nice and saturated. Then I place it over a long thing of saranwrap, and actually paint the dye onto the yarn with my fingers (wearing latex gloves of course). Then I wrap up the yarn into a saranwrap turd and do the nuke 2 min, pause 4 min, nuke 2 min, pause 4 min... until the water runs clear.
vintage pattern of the day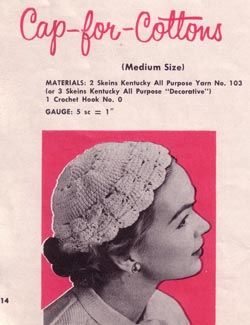 Question to other crafters
Does anyone know how to fold Kanzashi hair pieces? Those pretty fabric flowers? Or could someone point me to a nice resource?
If you don't know what I'm talking about. It's
like this