My week has been crazy busy so I've been lax on posting :(
Don't forget to enter the contest! The drawing is Monday!
I'm giving away this handspun (to be plied over the weekend!). It's been so WARM out here in CA this past week. Absolutely gorgeous (although my hay fever is just about to go nuts!). So what better time for ICE CREAM! This handspun is Vanilla, Chocolate, and some fruity flavor (a bit of strawberry and a bit of peach!), spun from llama, corriendale, and polworth rovings! Yummy! It will be plied over the weekend and ready for shipping after the drawing :)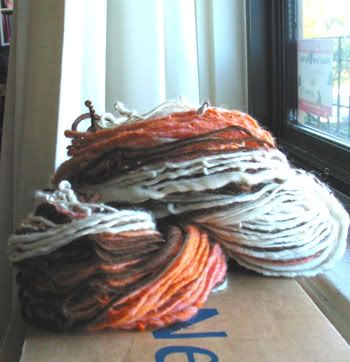 RAOK's!
I am a complete putz, and forgot to mention that the cookies from Annie over at
The COTFU Blog
arrived a week ago!!! Mmm... the first box of Samoas is nearly finished. Local friends must come over and help demolish the second box :) Yum! My sweet tooth thanks you kindly Annie!
Yesterday, I received a wonderful package from Julie over at
Stoneview
. After all the discussion of stitch markers on the RAOK list, she sent me a lovely set of hematite stitch markers! Lookie!! I can't wait to put them on my next project! Thanks Julie.
Last week I was over visiting Elizabeth's blog (
Asanteyaa
) and she was giving away this lovely yarn:
I received it in the mail today, and it's soooo yummy! It's beautiful soft single ply (38% silk, 30% wool, 20% kid mohair, and 12% acrylic). It's called Piazza Navona by Baruffa. It's so lovely! I'm thinking either a scarf or a hat with this wonderful yarn. Thanks so much Elizabeth!
I leave you all with a cute pic of kitties on a window sill :)