Ervan's bro left this morning. It was so unfortunate that the entire time he was here it rained. :(
He did get to spend a lot of time with the kitties who are quite happy staying together during the night now on our bed. Nikko's foster daddy contacted me over the weekend and sent me some photos he had of Nikko from about a month ago as well as a picture of his sister!
Nikko looked the same:
His sister looks so different from him though!
She's so much furrier! Apparently she is also a lot shier than Nikko. But I think Nikko is the most outgoing kitty I've ever met.
Spinning
I finished spinning up the rest of the green roving I dyed with Wilton dyes last week. Then I decided to ply in some magenta/maroon mohair curls for this week's Fiber Friday theme "Garden". This skein reminds me of roses blooming on their stems!
close-up
knitting
Even with sean (ervy's bro) here and my studying all weekend, I did manage to cast on for a moebius scarf (I got to use my hello kitty stitch markers from Lynette!) and finish it. I haven't blocked it yet or woven in the ends.
wrapped as a cowl hood thing:
It's also way too long, so I have to double it around if I want to use it as a scarf:
I totally forgot I had a widow's peak until I saw these pictures, I guess I don't wear my hair up much in pictures anymore. Did I mention I don't even like this moebius? I may like it more after blocking, we'll see. I used some recycled yarn from a Laura ashley sweater and a strand of bright blue mohair yarn (Geisha) on US#13 Addi Turbo 40" circulars. I cast on roughly 135 stitches.
Vintage pattern of the day
Emy mentioned that she thought
the era of sleek, chic and elegant are staging a comeback!
Indeed I agree. I think a US News magazine in my bathroom also agrees, as they noted that many of the conservative sweater sets and what not are back in fashion once more!
Today's vintage knitting pattern is a tennis player set for the whole family!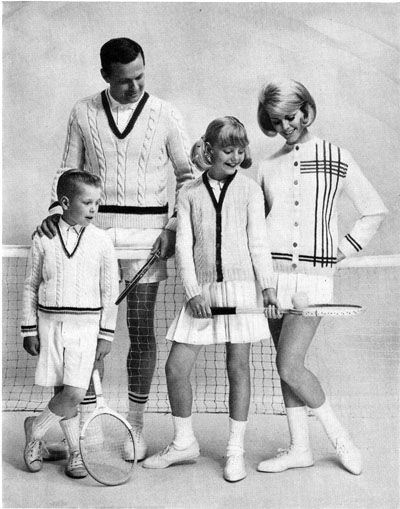 on comments
what do you all feel is the best way to respond to comments on a blog?
1) reply by email if the email is given?
2) reply as a comment on the same post?
3) address comment in following day blog post?
4) something else?
I'm still trying to figure out the right ettiquette for these things!