Went to the doctor yesterday. She doesn't think it's carpal tunnel (thank goodness), just repetitive stress and the muscles are unhappy. She said I might try knitting again for an hour after this week, or the next week (so I'll try at the end of this week of course!)
in the meantime, I tried my hand at making a few kanzashi. I really want to break out an iron, and see how the folding goes if I do crisp presses. I think right now the thinner fabrics work best.
here's one that I've finished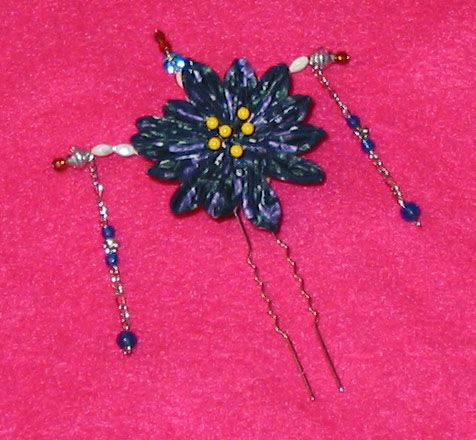 i've done 5 other flowers, but I haven't finished them off yet, so I'll show y'all later.
random link for y'all
this isn't gross, it's actually just pictures of peoples' fingers that end up looking like butts. I found it horribly amusing.
Finger Booty