This week is movie week. On Monday evening, my friends and I went out to catch the latest
Star Wars Movie
. I personally think it was a waste of money. Very cheesy. Ervy sent me this
cute comic
about it that amused me.
Tuesday night we watched
Finding Neverland
with Paulie. I lurve me some Johnny Depp. I enjoyed the movie, and it reminded me a bit of Big Fish in some of the more imaginative parts.
Last night ervy and I finally saw
Hairspray
(yay John Waters). I still think I like
Polyester
best, but Hairspray was fun/interesting. I didn't know anything about it besides the fact that it was by said director and ricki lake is in it. It was a fun throwback to times of old when people would actually watch tv just to see people learn actual dances. I did think the beatniks were an odd/amusing touch.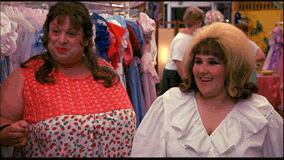 Tonight:
Saving Face
. I have heard good things about this movie from some of the Asian American online communities I'm on. It's by local director (San Jose)
Alice Wu
.