after sitting a very long time on my needles untouched, I finally picked up my sock to be and finished it off. It is my first sock, and I think I would like to make its mate after I finish off a couple more of my WIPs.
It's made of some self stripey soft TLC on size 7 circs from the Weekend Knitting pattern on striped jazz socks. I think I'd like to get better at the kitchener stitch as the end of the toe and heel looked a little funky.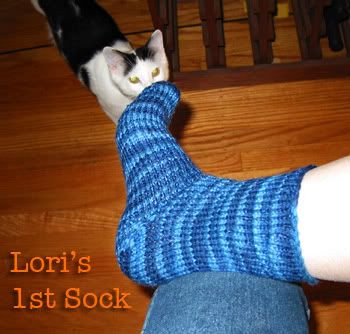 I'm also heading off to a baby dinner thing tomorrow, so I've made a quick umbilical cord hat from some bernat cotton tots. So cute! I posed it with my new book, Knitting on the Edge, which I have been coveting for quite awhile, but I only bought it recently when my friend Lourdes brought me a 40% off coupon for my local Michael's!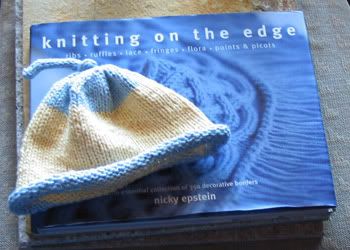 Speaking of Michael's, I couldn't help but pick up a few beads to make this pretty choker for my mom's bday (in september, I'm just preparing early).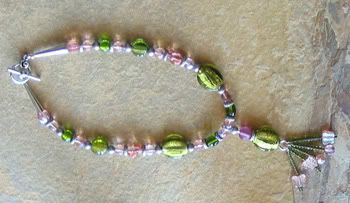 I also finished off Roxy's bday gift of orange irish hiking arm warmers done in that wonderful Anni Blatt yarn I bought in Texas.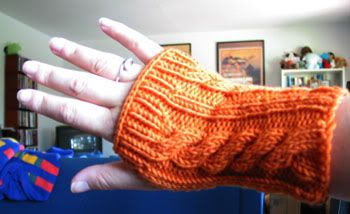 If you're ever in SF on the weekend, I highly recommend looking up the Blue Jay Cafe. Their brunch is FANTASTIC and quite reasonable. Evvie ordered a pulled pork sandwich which was delish! And I got some sort of yummy andoiulle sausage scramble. The place is a small popular neighborhood spot that serves up some yummy southern type cuisine!
very staccato blog post i realize, but my brain is fried currently...