sorry to have left everyone hanging. I was quite quite ill when last I blogged, but then even after the doctor's appointments, I still had to run into work to try to tie up some loose ends, and then pack like a mad woman before I trucked off to Houston to see ervy's brother graduate.
Here's Sean, the happy high school graduate: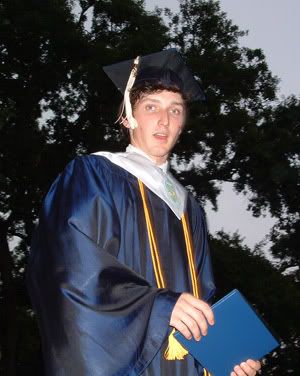 I got to meet scads of evan's family. I learned all about the past year of one of his uncle's medical history (stuff neither evan nor sean had any clue about) as told by his aunt while ironing sean's shirt for graduation. I had the wonderful chance to be caught off guard by evan's mom's birthday. Apparently it was the sunday of graduation May 29 (again, evan and sean were clueless that it was their mother's birthday). There I was stuck without a gifty, so evan and I raced out before graduation (like 30 minutes before) and picked up season 3 and 4 of West Wing for her.
Graduation itself was quite interesting. It was threatening to rain the entire time, and as they were calling out the graduates names for them to get their diplomas, it started to thunder and lightning directly over head so that half the audience ran away while the ceremony continued.
This is the puzzle that saved me during my trip to Houston. It's 2000 pieces, and provided wonderful focus for me during times of M familial stress and bustle.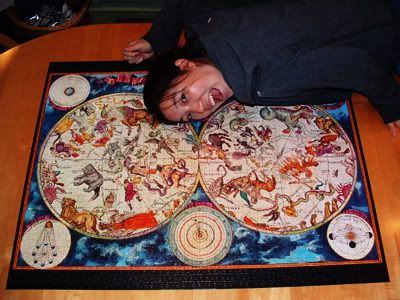 food tour
Most of my time in Houston after focusing on the graduation weekend, was spent seeking out tasty food places. I made sure to hit my favorites like
Goode Company Barbecue
(the ribs and sausage are quite yummy, and the smoked duck is AMAZING. And don't forget the jalepeno bread) and House of Pies (for that wonderful pie 24 hours of the day!). I also went to
Pappadeux
and had some tasty creole food (my first time having
dirty rice
and
shrimp creole
), and I ate the most fantastic
sweet potato pecan pie
*YUM*! Evan's mom made
red beans and rice
for me (a dish fairly foreign to me, but yummy all the same). I had some of the tastiest pizza Houston has to offer from
Star Pizza
(their salads are so yummy, I think I had the "chelsea"). We had some mediocre vietnamese food at
Mai's
(I think it was mediocre because the dishes ordered weren't really vietnamese (but instead a poor rendition of chinese food), there were two tofu dishes that basically tasted the same and were unextraordinary). The last meal we had there was sought out in the Bellaire area of Houston. We went to
Santong Snacks
for some of the yummiest dumplings I've had in a long time (sean refused to try the pig ear appetizer we got). Here's a photo (not mine) of some of the yummy dumplings at Santong Snacks for your drooling pleasure. The dumplings we ate were not fried.
devil's many disguises
Wow. this Walmart (seen near the Meyerland side of Houston) looks like a Whole Foods... weird creepy image change, no?