I'm so touched by the kindness of people that I've met online in the knitting blog world. I've even enjoyed meeting up with several of you to knit. When I see knitters getting together to do amazing things (like all the fund raising
yarn harlot
did for doctors without borders, and the relay for life knitting team that
Hollis
has organized) it makes me feel a little better about the world and renews my faith in people again. (on a totally random note, the movie
Enron
made me feel like all people might be untrustworthy and left me with a bad taste in my mouth and tears in my eyes).
Yesterday I got home and in the mail was one of the most wonderful RAOKs I've ever received!
Caitlyn
sent me FOUR VINTAGE KNITTING MAGAZINES!!!! GAH! I'm so happy! I LOVE vintage knitting mags! And she had a wonderful note along with it! I'm so touched that she gave me such a thoughtful gift! I've already flipped through the 2 spinnerin mags, and I think a lot of the fishermen sweaters are so CUTE (and the sweater dresses amuse me and delight me to no end)! I'm saving the vogue knitting ones to flip through once I've finished my work tonight!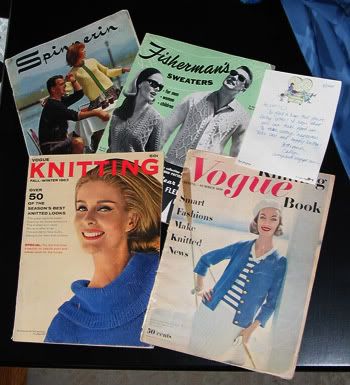 If I get off my butt to the scanner, I see more vintage patterns of the day (photos) in the future of this blog! Thank you so much Caitlyn!
Texas Yarn Store Review
In asking for Chicago yarn store recommendations, I realized I didn't get a chance to review the two yarn stores I visited in Houston, Texas. Ervy and his brother were kind enough to driver around to Meyerland and elsewhere to visit two stores in one day!
The first yarn store I visited was
Nancy's Knits
in Meyerland. It had moved a couple streets away from it's stated location on the website, but the marquis sign told us which street it was. The new place (they'd been there for a month) was in a large shopping center with a super market and near some hunan restaurant. Unfortunately, it had no sign yet, so it was difficult to spot.
The store itself was stocked to the brim with yarn. It had a lot of yarn in too little space if you ask me. There were towering cubes filled with yarn separated by small 2 foot aisles that were a little claustrophobic. I was excited to see that much wonderful yarn, but I was highly dismayed to find that nothing had a price label on it. I find it irritating to have to ask each time I pick up a skein how much it costs. So of course I didn't, and I ended up spending way too much money.
I bought 3 bright orange balls of Anni Blatt yarn (okay, up until yesterday, I thought it was AMY Blatt, the two n's sort of melded together in my mind. Then another knit friend corrected me yesterday. oops!), 2 balls of a yummy merino PaintBox yarn, and some other yarn that is on its way to my SP5. I was also searching for some non metal short circulars to bring on the plane with me. The store itself didn't have any short enough. The saleswoman did offer to lend me hers and I could mail it from California (again, knitters are such wonderful people!), but I knew I was heading to another yarn store, so I thanked her and went on my way.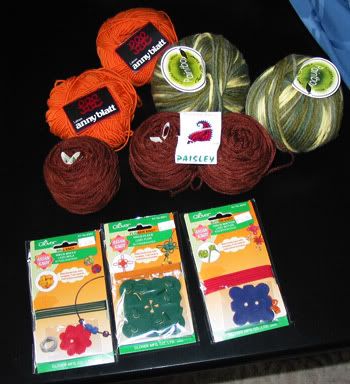 The second yarn store we visited was
Yarns 2 Ewe
I liked this yarn store better as it was brightly lit, had more space to move around, and had prices on everything (and a nice sale area at the back). The staff was fairly friendly, and the told me about a spinning shop I can visit next time called The Upstairs room. I ended up buying the summer and spring issues of spin-off, 3 sale skeins of Classic Elite Paisley wool yarn, and 3 clover tools that help you tie fun asian knots for buttons and closures!