really! They're such cute little sprouts too! I also bought some packets of sunflower seeds (teddy bear, and some reddish variety) to start sprouting for my mom. She's away this week, but she's been wanting sunflowers in her garden for her to snip during the summer to have beautiful flowers for the kitchen. For mother's day, we're going to be planting things in her garden so I figure I can start the sprouts now and transplant them on mother's day.
I've been a pretty busy bee updating the
Bay Area Knitters ring
. I FINALLY placed links to everyone's blog on the main page (man, 117 people! phew!). I then invited them all to be a member of the blog so that they could add posts about activities in the area. But Blogger only lets you invite each member individually, three people each time. So that was a bit slow too!
On the plus side, I enjoyed hopping around the ring and I found
Celadon Cupcake
inspired me to dress my dish soap: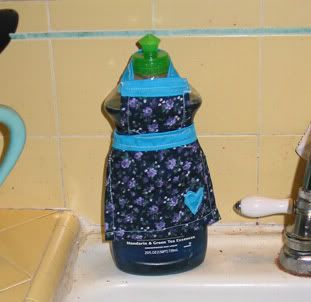 This was a quick and dirty version I whipped up minutes before ervy came home. I plan to make my dish soap a couple outfits. I also think my mom and ervy's mom would enjoy one for mother's day. How adorable! It makes me smile every time I wash dishes :)
Look! I also finished up another long lost
forgotten
UFO! My Hooray for Me Gloves done up in that silvery/beige israeli yarn I found thrifting! I would have been done Tuesday night, but as I finished up the thumb gusset on the second glove I had an "OH CRAP!" moment. I was making a second left handed glove! Poop! So I had to rip it back and redo it. I tried to take multiple pictures to capture the cabling, but that darn flash just loves to wash it out! (Pssst.. can you tell what show is on in the back?)
I've been planning for more spinning too--lest you think I've just been knitting/sewing and neglecting poor Wally. Here are a couple bags of merino x locks lined up to get ready for a bath :) I saw this technique on a couple people's blogs recently, but I can't remember whom. I hadn't spent the time to maintain the lock structure before, but we'll see if that makes a difference.