I've been knitting again! How absolutely wonderful to actually complete a project! I started a small
my-so-called scarf
around Valentine's Day when ervy got me some beautiful pink yarn from
Full Thread Ahead
Asha was ecstatic that I picked up my knitting. I left it for a moment on Monday and she curled up with it to nap.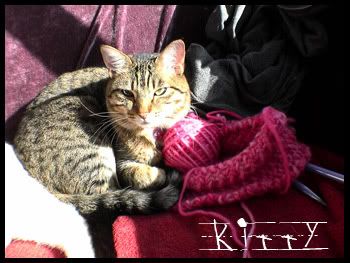 I finished it and blocked it. I
spoke previously
about the ridges I was getting in the pattern. I think this was due to the fact that the original pattern calls for 30 CO stitches, and I decided to cast on 18 to make a narrower longer scarf with the pretty pink yarn ervy gave me. This did create some spaces in the knitting, but I ended up using it as part of the design to add some contrasting color. I wove some of the beautiful handspun my sp6 gave me to add some flair. Then I dressed the sleeping Nikko in my scarf: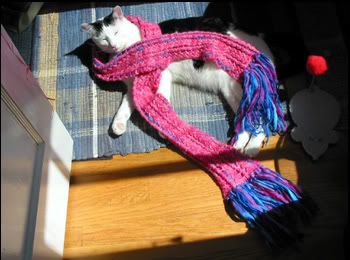 "mom, i'm trying to sleeeeeeeepppp...."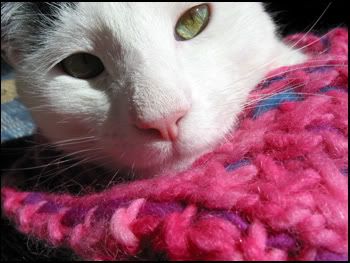 aww cute kitty overload!
I joined a new swap. My last secret pal flaked on me, so I've been tentative about my thoughts in joining up in new swaps... but really, this new swap is so perfect for me... it's the
Knitter's Tea Swap
, started by Suzie.
foodie related
I've been meaning to blog about the very tasty restaurant the erv and I found down in the Santa Barbara area. We ended up driving to nearby Carpenteria to
Clementine's Steakhouse
.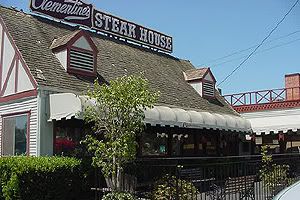 We loved this place. For $20 you get a humongous dinner complete with soup, homemade bread, salad, pickles, a main course (I got fried chicken), and homemade pie!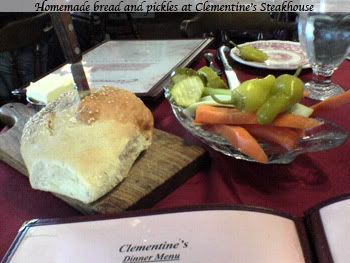 The place is dressed up to look like someone's grandmother's house.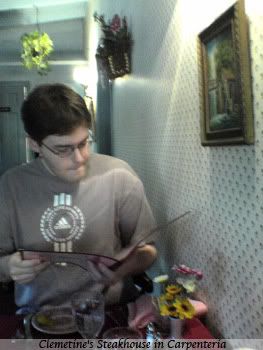 It's amazingly comforting, and our waitress (I think Clementine's daughter) was wonderfully nice. If you're in the area, you should try to stop by here for dinner.
Clementine's Steakhouse
4631 Carpinteria Ave, Carpinteria
Phone: (805) 684-5119