That's right. Say that three times fast...
strawnanachoc tart...
strawnanachoc tart...
strawnanachoc tart...
mmm... STRAWNANACHOC TART!
By now, you're probably thinking,
"okay. wtf is a strawblahblah tart?"
It's this: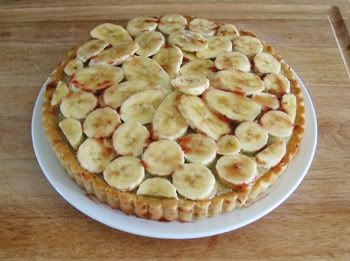 Sure. It doesn't look like much. But let me tell you, it's the perfect ending to a wonderfully warm happy weekend. It's been a bit toasty here in Bay Area! Wildflowers are a blooming, and my allergies have blown off the charts. Days start feeling just a mite bit more lethargic, and I'm drawn to the outdoors like bugs to yellow. That's when I start craving fruit tarts. Nice...cold...fruit tarts. This recipe was thrown together with the help of Nick Stellino's inspiration and Cook's Illustrated's guidance.
Strawnanachoc Tart
For the pastry I altered the Cook's Illustrated recipe for a chocolate tart to be a regular tart.

Pastry ingredients:
1 large egg yolk
2 Tb heavy cream (I didn't have this on hand, so I used a tablespoon of melted butter and maybe 2 Tb of nonfat milk, and it still came out fine)
1/2 tsp vanilla extract
1 1/2 Cups flour
3/4 Cup confectioner's sugar
1/4 tsp salt
10 Tb cold unsalted butter, cut into 1/2-inch cubes

Filling:
your favorite banana pudding recipe or instant banana pudding mix
1/3 C Nestle swirl (milk chocolate and white chocolate) chips chopped into small bits
1/4 C Bailey's Irish Cream
2 bananas
Strawberry Jam

To make the pastry, whisk together yok, cream (or substitute) and vanilla. Combine flour, sugar and salt in a food processor with 4 one-second pulses. Scatter butter pieces over flour and process with short pulses in food processor until mixture resembles coarse meal (20 one-sec pulses or so). With machine running, add egg mixture and process until dough comes together.

Turn dough onto a floured board. Kneed a few times and form it into a ball. Wrap dough and refigerate for 1 hour. After refigeration, remove the dough, unwrap it, and place it on your lightly floured surface. Give it a nice whack with your french rolling pin just for the heck of it--err, I mean it start softening it if it's too cold to be malleable.

Roll out the dough between two sheets of lightly floured wax paper pieces until it's about 15 in around, or big enough to fit in your tart pan with a little excess. Transfer dough to your tart pan and push it into the edges and cut off the excess.

Place the tart pan in the freezer for 30 minutes. After this cooling, preheat ovem the 375F. Set tart pan on baking sheet and cover with lightly greased foil. Place pie weights in the tart to prevent bubbles in the tart. Bake for 30 min. Take pie weights and foil off of tart and cook for another 5 minutes. Take tart out of the oven to cool on a wire rack.

Prepare your banana pudding. After the pudding has cooled, stir in the chopped chocolate and irish cream. Pour the pudding mixture into the tart and let set in the fridge for a bit. Slice bananas and decorate top of the tart. Heat a couple spoonfuls of strawberry jam in a sauce pan on the stove and brush the top of the tart with liquified jam.

Refrigerate and serve cold on a hot day!

Question
Do you think a tart could/should be classified as a type of pie? My friends and I had this very discussion, and I'm curious to hear what others think.