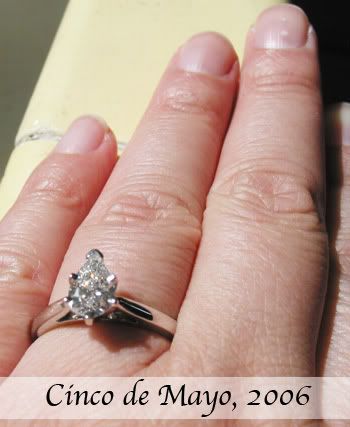 As requested, here's a shot of the ring! It's so sparkly! It's hard not to walk around in the warm Californian sun and not be distracted by the sparkles. Ervy likes it too. Too bad this picture doesn't capture all the sparklyness well.
Thank you all for your congratulations! And seriously Janis, we must have some weird psychicly linked lives.
This was going to be a post where I talked about how ervy and I met and how we got to where we are... then I told the erv man I was going to post that and he said, "yup--the sappy post." How very correct indeed erv man :) It's funny, because neither of us is normally sappy, but engagement bliss seriously tramples over all those normal habits.
*happy sigh*
Did I mention both evan and I are most looking forward to cake tasting? Mmmm...
I have some photos and thank you's I need to post about the wonderful packages I've received from my colorswap partner and Secret Pal Angel. But of course I need to take the photos first. All I can say is, WOW! I've really been spoiled by these wonderful people.