lol. To borrow the naming scheme Adagio uses... :)
This post is for the flash your tea stash for the knitter's tea swap, but I figured it could grace my blog too!
Okay. I'll be the first to admit I'm a tea fanatic. I mostly prefer loose leaf teas, but I do have some herbal tea bags, and chai in bags (because I can't seem to find a decent loose leaf chai anyway). I suppose I may adore tea too much, and I'm very conscientious about my brewing time and water temperature so that each cup of tea can be its very best :) I guess I'm a tea activist.
Anyhoo, here's my stash (it's missing some tea that my bf and I keep at work)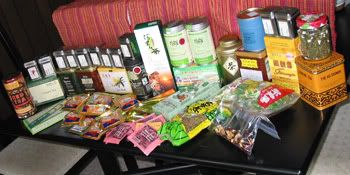 closeups: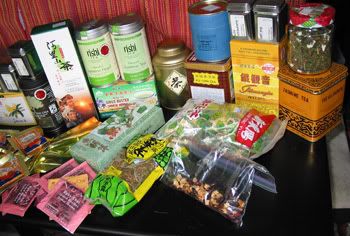 Here are my favorite teapots that are most often in use. The three in the middle are cast iron. The biggest can serve 8-10 people, the middle 2-3, the smallest pretty much me or 2 small cups. I generally use my IngenuiTea from Adagio at work, as it makes it easier to brew loose leaf. I think I have an affinity for blue tea pots, don't ya think?

Tea for me! A hot cup of Pu-erh and some mini blueberry muffins!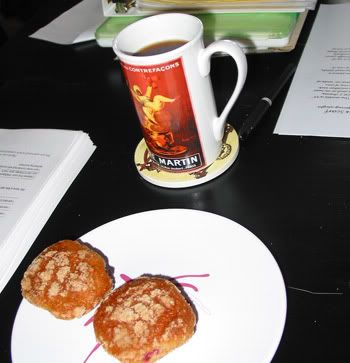 cross-posted to
Knitter's Tea Swap