After being out and completely removed from the world for a week due to being sick, I am back!
While I was lying in bed with fever, evvie brought me up my last package from my absolutely FABULOUS SP5! It was an especially bright moment in my illness as I poured over the treasures that my sp5 (who I now know as
Nancy
of bird knits)! Wow Nancy sure knows how to spoil a girl! She sent me that neat Red Cross kit I've been eyeing so that I can knit myself (or evvie) some army socks! I do love the color olive drab - how awesome! She also sent me some creamy superwash wool and a dye kit so that I can make dye it myself to create some yummy roving! She also sent some neat woolwash and two AMAZING skeins of yarn! One of the skeins is this pretty boucle and the other is a fantastic fluffy skein of handspun which I'm drooling over just thinking about it right now! Nancy went even further with her generosity and donated $100 in my name to the Red Cross for Hurricane Katrina. How did I get blessed with such a wonderful and giving Secret Pal? Honestly, I feel a bit guilty getting such a great SP when I know there were quite a few people this round who had flaky sps. Nancy, you're the BEST!
closeup of handspun from sp5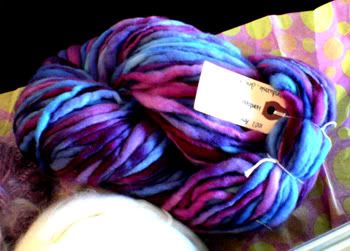 Also, a quite belated thank you to Suzie of
The Purly Gates
. I won her blogiversary contest and she sent a wonderful package of Japanese yarn, a CUTE japanese bag, some clover pins, a new notebook (I LOVE notebooks!), and some wonderful Japanese candy!! Thanks Suzie!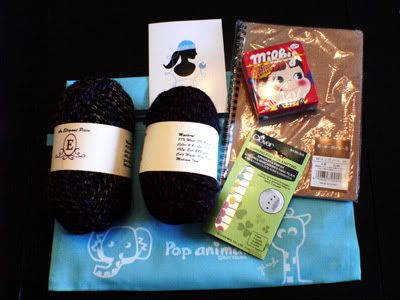 Last night I met up with some high school friends and had some pie. It was good to see people.... We ate the pie before I took the picture :(
As a last note, while I was out sick last week, many people's lives were devastated by Hurricane Katrina. Please think about giving a little to help rebuild these people's lives. Evan and I donated to the
Red Cross
, and I encourage y'all to give what you can to help these people. Also you might think of giving to
habitat for humanity
which is down there helping rebuild homes.