I'm exhausted. I had a fabulous and full weekend starting off with a simply wonderful evening with Hilary and Steven on Friday.
As mentioned previously, we went to The Village Pub in Woodside, CA for dinner. The one downside of the dinner was that, although we had reservations for 8:30pm, we weren't seated until around 9pm. The maitre' d (sp?) came over (after I asked how much longer we would be waiting) and apologized profusely to us explaining that people just weren't leaving... and within 5 min we were seated in a wonderful cushy booth near the fireplace.
They gave us three different types of menus, the dinner menu, the wine menu, and the pub menu. Our waiter came over promptly and explained the menu and some of the specials of the evening. We ended up ordering both specials, which were appetizers, some fabulously rich lamb meatballs on black chard in a yummy broth and heirloom tomatoes with a delicious local extra virgin olive oil, a 25 year old oak barrel aged balsamic, water buffalo mozzarella from Spain, and some special rock salt from Australia (i think). Before we had even ordered, the sommelier came over to the table to inquire about what we might like to drink with the meal. He was relatively young, so it was actually quite fun to engage him in conversation about what it takes to be a sommelier. I also found it amusing that he would say things like, "I like to drink a lot" and
"I found this wine to go great with everything, including cheerios."
We ended up getting a bottle of this delicious rioja to go with our meal:
Rioja, Crianza, Sierra Cantabria 2000
The rabbit meatballs:
The heirloom tomatoes and buffalo mozzarella salad. Btw, I've had some water buffalo mozzerella, and it is indeed much much tastier than normal fresh mozzarella, but THIS mozzarella was the YUMMIEST one I have ever had the pleasure of eating.
Actually before our appetizers, they brought us each out a complimentary first plate of local sliced beets (bright orange and yummy) with asparagus which we each demolished before I remembered to take a picture.
Both Steven and I ended up ordering the pork chop dinner on the menu. How could we not order that after the waiter so deliciously described it? It is Niman Ranch Pork that had been covered in some sort of maple glaze and grilled as a huge rack before being cut up into servings. It was served over Italian butter beans and roasted figs. *drool* Ohmygodyumiwishicouldeatthateveryday
Hilary ordered the gnocchi with clams which she reported to be also quite wonderful.
ervyscurvy ordered the grilled 28-Day Dry Aged Rib Steak which he said was also amazingly tasty, although he did keep nibbling on my porkchop...but who could resist that chop?!!
Before we finished our main courses, the sommelier came over and had us try another wine to go with the last bit of our meal. It was the Calera Central Coast Pinot Noir 2000. I found it absolutely wonderful!
For dessert, each couple got one of the yummy chocolate hazelnut souffles...oh how I love a good souffle.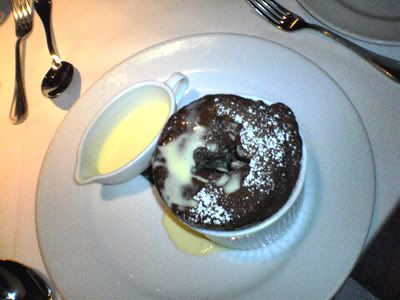 We were also graced with a small platter of petit something or others (yummy sweet goodness including the best macaroons ever, some chocolate bark, a truffle, and some tiny rendition of a provencial french dessert)
I highly highly recommend this place if you're in the area. I'll blog about the rest of my weekend tomorrow...