I'm so excited for dinner tonight! As much as I tried to dissuade my wonderful friend Hilary from taking us out to a nice dinner, she insisted she and Steven really wanted to do this to thank us for our help with their wedding.
Anyway, she insisted I give them the name of the restaurant that ervy and I had originally planned to go to for our 3rd yr anniversary (before we bought the smoker instead).
So tonight we're heading to
The Village Pub
in Woodside, CA. YUM! 'pub' is a misnomer according to most accounts. It's really just a truly fancy restaurant down here on the Peninsula. The chef is Mark Sullivan who apparently turns out wonderfully tasty meals (and I hear it's not the tiny cuisine you get in most fancy restaurants...). T
he James Beard Foundation
says, "
Today, The Village Pub is the poshest pub around, with plush leather chairs, arty black-and-white photos, a mahogany bar, Lamborghinis in the parking lot, and contemporary Mediterranean-inflected food so good it earned the restaurant three and a half stars in the San Francisco Chronicle. As Chronicle critic Michael Bauer wrote, "Those who get to eat Sullivan's food regularly are privileged: he is producing some of the best food in the Bay Area. Few chefs have more talent-or restraint...Dish after dish proves Sullivan's mettle."
"
oh yeah... i'm excited.
oh and here's a pic of the sky yesterday afternoon for
Sandy
's contest. I actually caught it a little cloudier than it had been yesterday: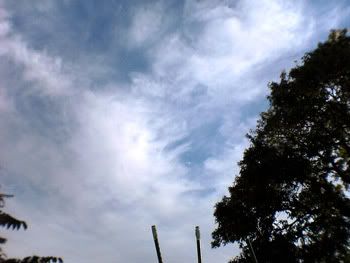 In my knitting life, I'm on the 3rd set of repeats still for the FBS. I would take a picture, but I'd rather wait another couple repeats so that my progress since my last picture will be more evident. I did swing by target at the beginning of this week to see the $1 yarns. They had some novelty yarns (a furry one and a ribbony railroad type yarn). I'm not really someone who knits with a lot of novelty yarn, but I picked some up to make a shawl for a charity auction at the local preschool. I figure, people who don't knit seem to like this novelty stuff more than complicated stitch patterns anyway. So I'm knitting a big dropstitch stole on large needles for the project.