Friday evening I came home and fell asleep on the futon in my living room only to wake up to a guy in sunglasses standing above me in the living room window. Naturally (for me) I went ahead and screamed and rolled off the futon in surprise. It was just
Nick Chan
, stopping by to say 'hi' as he was biking home.
Luckily the rest of the evening was fairly low key and relaxing. Ervy, the kitties, and I curled up on the couch to watch most of our TiVo'd weekly show that we hadn't had a chance to see during the week. It was a wonderful sleepy end of a work week. Even Nikko was tuckered out, and curled up on ervy's lap for a nap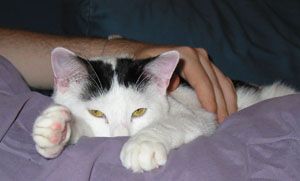 Saturday we started off the day by heading over to
Common Ground
(a organic community garden center which sells lots of heirloom seeds and organic gardening supplies). I purchased a bag of cocoa husks for mulch which made my car smell deliciously like CHOCOLATE! mmmm! We then headed out for dim sum and happened to see different fun things to go to along El Camino.
We ended up stopping at Palo Alto High School's Flea Market where I picked up a couple of 80's crochet magazines and some neat Swedish board things.
Awkward moment (while paying for the crochet mags)
old man seller dude: are you chinese?
me: yes
omsd: how come so many chinese people are with caucasian people (nodding off at ervy who had moved on in the flea market, and adam and emi who also walked on)?
me: um, I don't know
omsd: I thought Chinese people liked to stick together
me: uh, I think it's a generational thing
omsd: oh yeah, like they used to make the women bind their feet.
me: yes. (paid guy and jetted off)
Here are the Swedish board thingies I bought. I just thought they were pretty. the rectangular one says, "Give us our daily bread" (said the vendor), but we have no idea what the round one says. If any of y'all read Swedish, I'd love to know. I was a little peeved to find a sharpied 'x' (near the top) on the rectangular one when I got home. The seller had covered it up with the price sticker.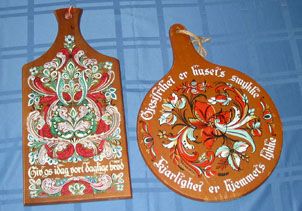 The rest of Saturday afternoon consisted of sober me, with two drunken males: ervy and paulie. We stopped off at the Wine and Brew festival at Menlo Park College.
I was the chosen designated driver for good reason since I can't drink very much, leading to another awkward moment when the ticket guy tried to get me to buy a drinking wristband as well:
me: I can't drink very much anyway, I get drunk after a glass of wine.
old man ticket guy: *chuckle* where were girls like you when I was growing up?
ervy: um, I think we'll go over here *pulls me away toward the festival*
So we spent a few warm hours at the festival in the sun (we all walked away with sun burns). I followed along watching paulie and ervy drink lots of wine and beer. We also got to see a few drunk old people being...drunk. Always amusing. We finished the day off with a quest for deli meats and some game playing.
Nikko decided he really likes the Woodside Deli bags: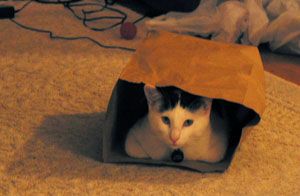 Sunday, not too much occurred other than some pretty radish pickling:

Knitting content
So I didn't make pom poms for my coffee hat yet. I haven't decided what yarn (color) I want to make them out of.... brown or white or the coffee yarn itself? So here I am wearing it in its uncompleted state. Imagine pompoms at the end of the i-cords and one on top of the hat.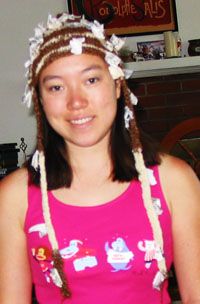 I also made some progress on the lap blanket I'm knitting from Weekend Knitting using some recycled yarn and some Geisha yarn.