It always makes me happy when it rains at night. Not only is it soothing to listen to while I fall asleep, but it also eases my conscience about not watering my plants outside :)

speaking of plants (hideous segway...), I forgot to mention that ervy and I got a xmas tree over the weekend. We went out to home depot and snagged a 7' douglas fir (kitty friendly yay! although admittedly we found that out after the fact) for 24 bucks. I really like the tree bagger line they got going over there. In a matter of seconds, the tree you pick out has its end cut off and then it is thrown (really they throw it!) through a hoop into a net bag. It all happens so fast, people at the end trying to find their tree get all blinky and keep looking back and forth between the cutting station and the bagged trees to figure out what just happened.




ervan was worried we wouldn't have enough ornaments. Silly boy. First of all, I am of the opinion that almost any small object can be made into a nice little ornament. But I am also a crafter (duh! did i really need to state that, prolly not.) I beaded up a few snowflake ornaments and I pulled out the box of 20 polymer clay masks I had from the mask swap this year. They are the perfect size for ornaments, and many are very very cool. Last year I put my masks into a shadow box for display, but I think turning my swapped masks into ornaments is a perfect display idea!



Anyway, so the tree now has lots of little goodies on all of it except for the bottom two feet. I don't want to tempt asha too much to abscond with any ornaments. Thus far, the most she has done is try to eat the tree (very much in line with her character). I do spray her though when she does that even though this tree isn't poisonous to her.

spinning
finished spinning and plying some new yarn yesterday.
Here it is in the bathroom drying with a can for weight: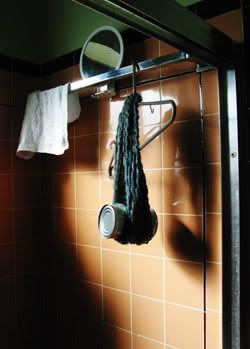 The colors are hard to see, but it's a heathery blue/green wool with pink/mauve cotton thread plyed with it.

I'm still not sure what I think about this yarn. fufu made the comment when he saw it lying around in its unspun state that it looked like "grandma hair"