random
Ervy sang a song of tribute to the hallowed directTV TiVo this morning. it was cute. Then the RCN man came by and we found out that the aggressive RCN sales lady was wrong and if we want RCN internet, it has to be via a cable modem, but we don't have the apartment wired for cable, so if we wanted to wire the place it would require drilling through the floor which we can't do without the landlord's permission.
BUT, it's still a beautiful day. And I don't really care about the RCN stuff, because at least I'm not living in fear as I was yesterday. Yes, I was living in fear of not having internet for a brief time. As it turns out tho, SBC doesn't deactivate our internet till the RCN man installs new internet and calls SBC, so I was living in a heightened state of fear for nothing. Silly orange alerts... oh wait.. nevermind...
I played Sims 2 for a bit last night. It took FOREVER to install, but they had a fun little game called grow your sims to play while you installed. The game asks you trivia about the sims and you play a memory matching game with sims icons.
knitting and spinning related
Delia
posted her pattern for Irish Hiking Arm Warmers to go with the Irish Hiking Scarf. I've been meaning to do another pair of arm warmers because it's been so gosh durn freezing lately that I'm always wearing arm warmers, even if it color clashes with the rest of my outfit. *fashion police sirens are heard*
So I knitted 1 and 1/4 arm warmers yesterday. If I have time I should be able to finish them today for weekend wear. It's knitted out of a pretty blue wool by Gallway that I picked up on The Magnificent Thrift Store Yarn Haul. It's not a store. It's just how I fondly remember the day I found a bunch of great yarn at St. Vincent de Paul. *wipes a tear* It was a lovely day then as well.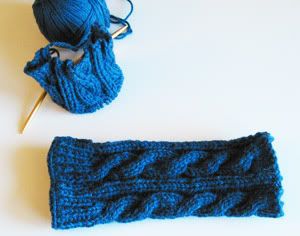 This morning I sat and predrafted some wool fiber I had dyed awhile ago. I really really REALLY like predrafting. It's very fun to pull apart the fibers from this thick bunch of wool and slide it into soft pretty predrafted lengths. I can't wait to spin!!!
here's a pic of the wool in the midst of predrafting. you can see how loose and fluffy it gets. Part on the end is still all bunched together in the pic, because I hadn't drafted it yet.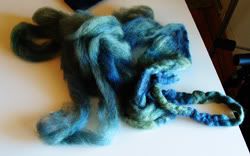 crafty dreams
I had a dream I set up my kiln in the garage finally. Yes, I have a kiln. Apparently it's a very nice one. My nai nai bought it when she used to make jewelry, but never got around to using it. So when I started making jewelry, she lent it to me. I've had it for 2 years, and I haven't opened it out of the box. Now that I have a garage, I could really use it too!
Anyway, in my dream I was playing with silver polymer metal clay (pmc). For those of you who don't know, it's 99% real silver with a polymer binder that melts away when you throw it in a kiln and heat it up. So you're actually left with something better than sterling silver. I've been wanting to work with this stuff for a while, but I haven't had the inspiration yet. However, my dream showed me a couple pendants I would <3 to make! I'm excited. Not tellin' what it is just in case I'm a loser and 1) don't drag my ass down to the garage to set up the kiln 2) I make it crappy.