We're baaaaaaaaacccccck!!!
Budz went in for a check-up on Monday and the surgeon said, his surgical sites are healing nicely! He was finally able to take off his cone!! Even better news? We did a follow-up ultrasound of his lymph nodes and it appears their swelling has reduced - suggesting the cancer really didn't spread there! I was soooo happy!!!! And although there's some residual healing issues going on with Buddie, it's almost like we have our old pup back!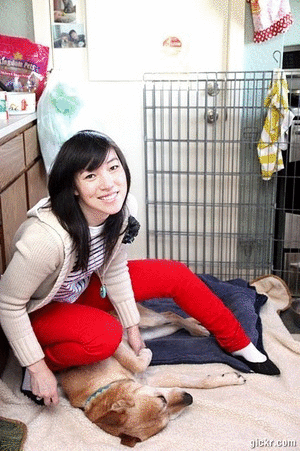 He will be undergoing follow-up radiation treatment. This will ensure that any cancerous cells left behind in the region (the cancer cells were fairly close to the margins of the excised tumors so they likely spread beyond the removed material). The unfortunate thing is that there are
only two animal radiation treatment centers in Washington state!
What does this mean? Well, in about three weeks, we will be bringing him out to Washington State University (a six hour trek). We will have to leave him there for a MONTH while he gets around 20 small radiation treatment doses! It seems absolutely crazy to leave him out there, and we'll miss him terribly, but they have the best equipment to treat him, and tons of veterinary students to dote on him (or so my oncologist assures me).
So in the meantime, I'm enjoying having my doggy back. And he's enjoying life without a cone (he seems to sleep sooooo much better without it!).
Here he is trying on his new shirt my dad got him for Christmas (he couldn't try it on before with the cone).
Qliance is the primary care medical group my dad and uncle founded
Rolling with Buddie OOTD
TBJ Jeans cream hoodie (thrifted $6)
Ann Taylor Loft Sketch striped boatneck top
($4 thrifted)
Target Xhilaration Salema Zipper Trim Flat Shoes - navy (nwt thrifted $5)
Forever21
Soar The Air Necklace
($5.80)
Forever21
Polka Dot Rosette Hairclip
worn as a pin ($1.50)
Bright red Judy Blue Couture Jeans sz 3 (thrifted $8)
By the way, this is the first time I tried putting animated gif in a post. I used
http://gickr.com
but I'm not liking how low quality the images come out with it. Those of you who use animated gifs in your posts, what do you use?