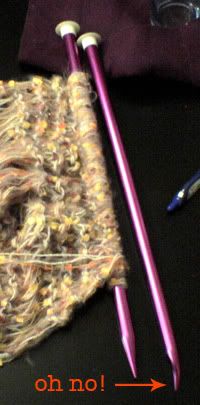 All I can say is, at least it wasn't an Addi. In fact, these are some of the early needles I bought (hence the humongoid size 17) to whip things up quickly. I believe these needles met their fate in the car... I possibly slammed the car door on them? It still seems to work for knitting... it's kinda like a mix between a knitting needle and a crochet hook. I've currently been using them to knit a quick drop stitch stole for a preschool charity auction. It's about halfway done.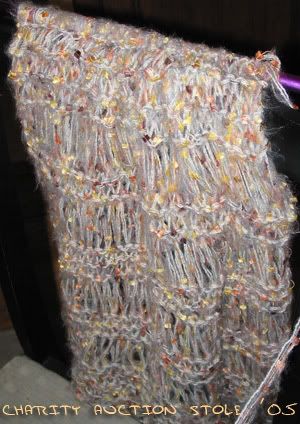 up close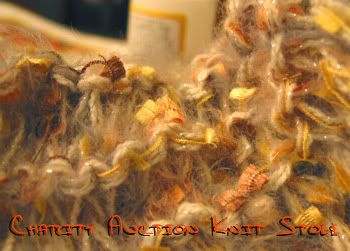 food
This weekend ervy and I bought some heirloom tomatoes at the Farmer's Market at $1/lb. What to do with the tasty tomaters? Well, it just so happens that I just bought a hot water bath canner and I have a ton of canning jars. So...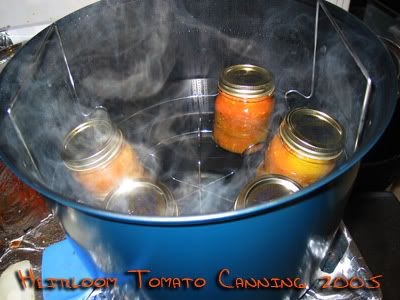 hot steamy canning goodness! All 5 of the jars sealed (we heard three 'plink', and we could tell the other two had sealed by morning since the domed lids curved downward). Huzzah! I forsee more fun canning in my future.
Which of course is why I was testing out a
lemon curd recipe
... OMG. I've never had lemon curd before, but man, it's SO GOOD! Wow, I especially like it while it's still warm! Of course I had to make some scones immediately to go with my curd.
Cranberry Almond Scone Recipe
2 cups flour
1/2 tsp salt
1 tbl baking powder
3 tbl butter
2 tbl sugar
some milk
1 egg
1/2 cup sliced blanched almonds
a small handful (1/2 cup?) dried cranberries

Put flour, salt, sugar and baking powder into a bowl and mix. Cut the butter into the mixture with a dough blender. Whisk egg in another bowl and add to dough mixture and stir. Add milk and mix in until you've got a workable dough (not too sticky, but wet enough to thickly hold together well). Turn onto floured surface and knead a bit. Roll out into 1/2 inch sheet. Use triangle cookie cutters to cut out scones. Brush tops with milk and sprinkle with a little sugar. Bake at 450 F for 10-15 minutes or until tops are golden brown