You must see this movie... Actually, you must buy/rent/netflix/borrow/steal the Firefly Series dvd set so you can fall in love with all the characters and then see this movie. You can enjoy the movie without doing this, but I think it will be best appreciated if you see the DVDs too!
As a proud knitting fiend, I happily sported my recently knitted Jayne Cobb Hat to the opening of the movie. I have been encouraging shy knit bloggers that have knit the hat to wear it to the movie, and honestly, I expected to see a few other hats in the audience.... NO ONE ELSE HAD A HAT! Not one. Which meant I got a lot of stares, and comments, and even a tap on the shoulder from another knitter (who apparently hadn't had time to make the hat before the movie) who proclaimed me something to the effect of one of the coolest people ever. There were even people who as I was leaving were talking about how they wanted to STEAL my cunning hat. Dang! I held on to my hat tightly, I assure you!
It was a great evening though. I got to meet my friend Chris from livejournal, and a big group of us headed over to Passage to India's buffet for some yummy Indian food. Here are some blurry camera phone pics to commemorate the moment...
Me and Chris, Adam and Emi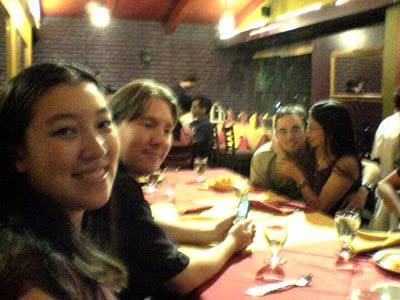 Fu, Adam and Emi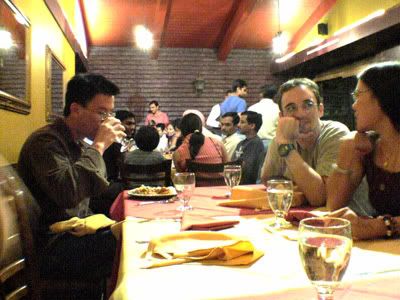 Nick "I thought I could finish my second plate of food" Chan,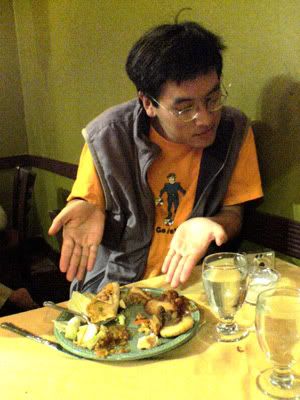 I actually think the lunch buffets I've been to at Passage are better. First of all, they didn't have those yummy fried honey soaked balls for dessert that I absolutely NEED when I go to Indian food. And they were so crowded that they couldn't keep up with having clean plates and bowls at the buffet line, so we were waiting around a bit. And while this doesn't affect me (I don't like mango), the mango soft serve was... um... too soft... or just liquid. Overall, they were just too busy. Go there for lunch.
As seen on my friend
Chris
's blog, here's a link to
Orson Scott Card's review of Serenity.
btw, Orson Scott Card totally ruled my middle school universe :) Does that make me geeky? bah.
Vintage Pattern(s) of the Day (from 1961 McCall's Needleworks)
Some cute knitted toys... (I have to knit the black sheep with 3 bags of wool!)