I had an absolutely fabulous time in wine country this past weekend. AdaLi, Pli, ervie and I headed out to a timeshare in Windsor on Friday. Actually, ervie and I went first, and we actually made it out to a tasting before they all closed. The first place we went to was
Paradise Ridge
where the owners of the winery/vineyard poured us some wonderful glasses of pinot noir (excellent), Cabernet Sauvignon (didn't like it, weird afternote), Zinfandel (yum), and Inspiration wine (double yum). The estate winery was gorgeous. The tasting room was at the top of the estate on a hill overlooking vineyards and the Russian River Valley.
We ended up buying the Zinfandel for dinner and stopped by Mulberry (?) Grocery on the way back to Windsor. We had a simple dinner of yummy cheeses, bread, a local jam, and some of the last heirloom tomatoes of the season.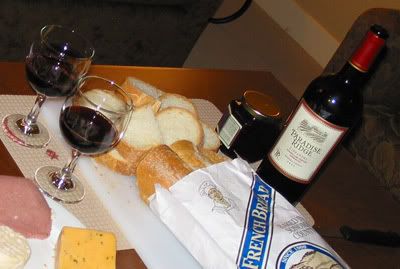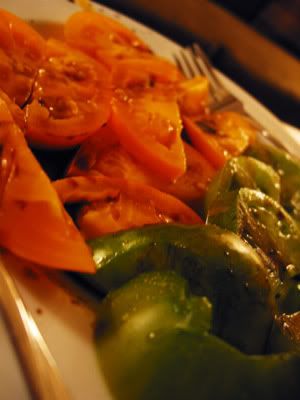 Saturday was set to be a full day of tastings, and we headed out to Healdsburg's local farmer's market to check out the local produce and grab some lunch before the alcoholic part of our day began. We found these gems at the market: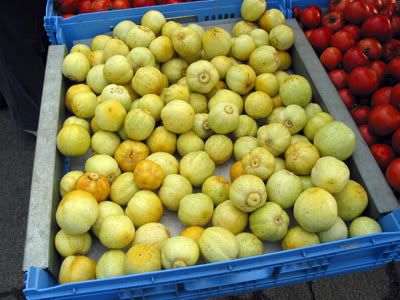 They're lemon cucumbers. Yum. They don't taste like lemons (just look more lemony). They are a bit sweeter than normal and are wonderfully light. Apparently, they are a bit easier on the stomach than normal cucumbers for some people. After the farmers, we headed over to Costeaux french bakery for some yumminess. I had the best-quiche-ever. Here's minli+scone+a to-die-for chocolate thingy
Wouldn't you know it, but chance just took me to the town's yarn shop which was right next door to the bakery. I picked up some Lopi to make another Jayne hat for a friend which I had every intent of knitting Sat night except that plan was put on hold due to a wine headache.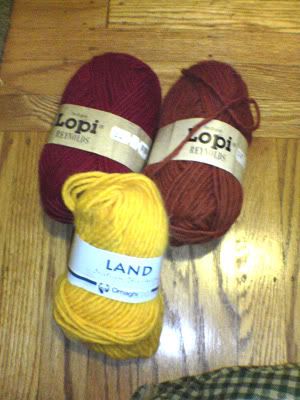 the wine
We went to
Silver Oak Cellars
to begin our grapey journey. Their motto is "Life is a Cabernet." Well, their cabs were good. They had two available for sampling--one from Alexander Valley, and one from Napa. I found the Alexander Valley one to be harsher than the Napa, (I attribute this to the fact that the Napa Cab is actually a blend including merlot), but our group was in disagreement about which was better.y
On our way out we hit
Geyser Peak Winery
where we listened to
Journey
with a couple of the pouring staff who couldn't tell us very much about the wine... to be honest, the wines were not anything to write home about (so why is it on my blog? bah i'm such a rambler).
After that disappointment, we drove over to
Meeker's
tasting room. HUZZAH! OMG, I love their wine!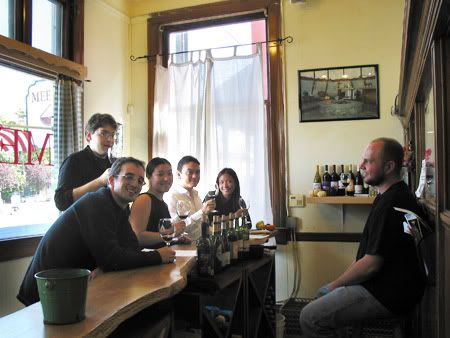 In fact, we all loved it so much that each couple joined their wine club (the Meekers refer to it as the Tribe, I think because their first tasting room was a very large teepee). All their reds were fantastic (even the merlot was good, and I don't even like merlots). Their dessert wines are created ice wine style and are soo yummy. Plus, this winery has no uppity stiffness about it. They have a wonderful sense of humor and love that goes into their wines that shows in the finished product. You can't help but smile at the wine names like Barberian, Pink Elephant, TaxiCab, etc. We tried 12 wines while we were there (we left rather tipsy, the Meeker man told us he had a tendency to end people's wine tastings... by giving out lots of yummy wine). They really specialize in red wines, the only white wines in our glasses were one of the dessert wines and some chardonnay he poured in our glasses to *wash* them out between tastings. Definitely make this a must visit if you go to Alexander Valley. The tasting room itself is situated in an old bank and the wines are actually stored in the old vault! It's kinda neat to look at!