So last Wed, when I started freaking out about a certain Monday Fellowship deadline that had slipped my mind, I came home after a day of stressin' to find a wonderful gifty from my Secret Pal!
She sent me one of the books I've been wanting FOREVER!!!!
From Interweave Press!! I've flipped through this book many times at the LYS, only to force myself to put it down as I grab more yarn to fit into my budget! Now, HUZZAH! I LOVE LOVE LOVE the dragon charted for the scarf in there. My dad was born in the year of the dragon, and I've wanted to knit him something with a dragon on it! I admit, even though I was supposed to be stressin' for the fellowhip, I did enjoy flipping through the book again anyway! I'm also really really tempted by the neat sort of patchworky type scarf and some more of the lace scarves (I have to admit, I'm loving working on the FBS! Lace is really really FUN now! Am I crazy?). Thank you thank you Secret Pal! Sorry it took a bit to post about it, I know how anxious I get about packages reaching their destination, I was just a bit crazy this past weekend... Oh and I'm super excited that you got an ingenuitea!! I personally believe everyone should own them. :)
knitting
Really, I do have to emphasize how much I love knitting the FBS. Everytime I get a chance, I knit a couple rows. The lace repeats are easier after getting to know them a bit, and everytime I need new markers (every 10 rows), I go over and make a few.
Here's my progress thus far: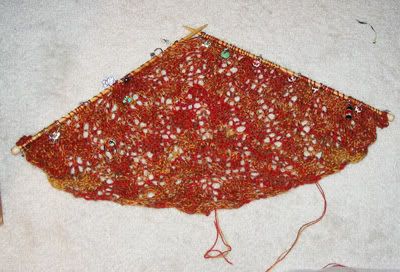 I've also started knitting a couple squares for the Diva Knitting contest
. I'm using some of my hand dyed yarn for one, and some handspun for another! Pics to come later :)
Spinning
So yes, I actually can buy roving from several of the farmers that come to the Palo Alto farmers market! I've noticed a couple handspun skeins showing up at different stalls, but then 2 wks ago, one of the stalls also was selling roving! I got almost a pound of ivory shetland wool roving (from a sheep named Sunny) for $15.
Here's my progression on that lovely wool... from this: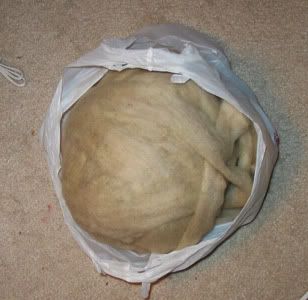 to this: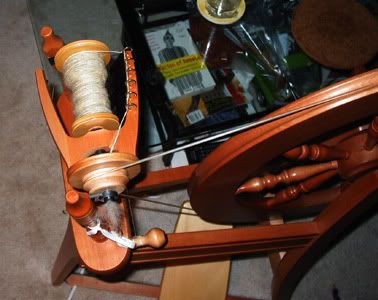 to this: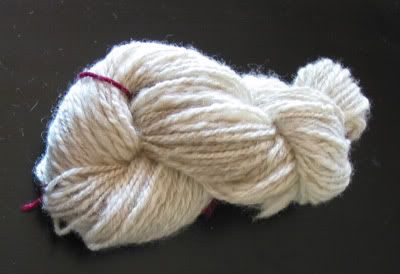 to this: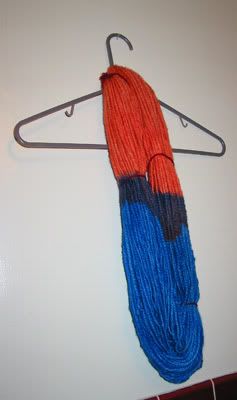 It's a wonderfuly bulky two ply that I dyed to make a hat (although I think I'll have enough for two hats) for my friend who likes orange! I dip dyed it in the crock, And I was hoping where the orange and blue crossed I would get a more purple-y color... oh well. I LOVE how bright the colors came out. It will make a fabulous hat!
random
I heard the black eyed peas song "My Humps" in the car last night and this morning (a break from my all day npr listenings)....
i was open-mouthed about how stupid it sounded. its lyrics were uninspiring (ok, i wasn't expecting to be inspired, but still "my hump, my hump, my lovely little lumps"?? wtf?), also the song construction is quite dull and monotonous. ick.