I had such a fun weekend! Friday night, we kept things low key and had Fuson over and played San Juan until 2am. We had been craving blackened catfish, but last week the seafood counter at Whole Foods had slim pickings due to the storms earlier. We ended up buying a whole snapper and having the guy fillet it on the spot. It was fine, but I'm still craving catfish!
Saturday, evvy and I went to work out at EA. I like it much better on the weekends when there are fewer people in the gym. I also feel better about changing one of the TVs to watch food tv while on the elliptical. For some reason, watching food just makes me forget that I'm actually exercising at the same time.
Speaking of food, I found myself salivating over the muffins on the Whole Foods recent mailer. The recipe is for Granola & Applesauce Muffins, although I modified it a bit. I really like these. They're simple and delicious. In the future, I think I would add more oats.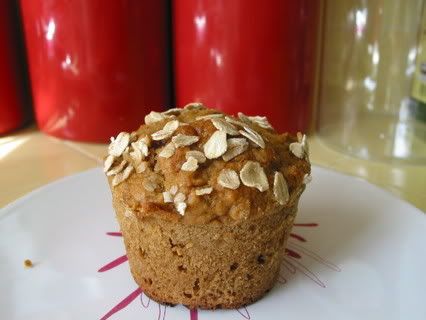 Here's my modified version of the printed recipe:
Oatmeal & Applesauce Muffins

1.5 cups old fashioned rolled oats
1/4 cup chopped walnuts
1/4 cup chopped dried cranberries
1 cup all purpose unbleached flour
2/3 cup whole wheat flour
2 tsp baking powder
1 tsp baking soda
1.5 cups Applesauce
1/2 cup milk
1/4 cup brown sugar
5 Tb canola oil
2 eggs
pinch of salt
2 Tb good local honey (I used orange honey)
rolled oats for topping

Preheat oven to 400F. Combine oats, walnuts, dried cranberries, flours, salt, baking powder and baking soda in a large bowl. In another bowl, whisk together applesauce, milk, sugar, honey, oil, and eggs. Add to dry ingredients and mix just until combined. Divide evenly into muffin tins (use either a non-stick pan or muffin papers) and fill 3/4 full. Sprinkle extra oats (if you would like you can sprinkle a little sugar on top as well to give it a little more sweetness) on top and bake 18-20 minutes or until tester inserted in center comes out clean. Let cool slightly and remove to a cooling rack. Makes 9-12 muffins.
Saturday night we headed over to Hilary and Steven's new place for Hilary's birthday party. We had a great time playing an old school game called "
Pit
" (Minli, in case you're reading this from Italy, I think you'd like this game). It's a commodities trading game that Hilary had enjoyed playing while growing up. In fact, she still had the same 1980's colored set from her youth (very cool and kitch). Basically, the game involves lots of yelling, hand-waving, and swapping of cards. We all agreed the game would be super enjoyable while drunk, but alas, we stayed sober for the drive home. We ended up staying at Hilary's house until 2:30am ish chatting with Marie. We're so excited to meet another cat lover (she has FOUR in her apartment), gamer (board/cards) and foodie (she's been to cooking school!). Hey Marie if you somehow read this, I'm totally excited to visit you for movie night and try some of the fabulous Chai you speak of!
Sunday, I woke up late and immediately started using this yarn I spun up: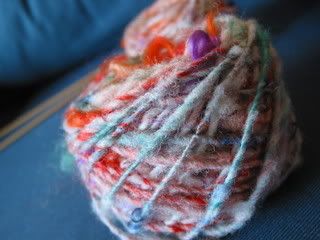 I spun this up to have lots of texture and color. I had planned to make a bag for myself, but I wanted to make something fun for my friend Marlow since I haven't seen her in ages. I ended up making a cute little bag that I totally meant to take a picture of. I madly knitted and seamed the bag up in the car on the way to see Marlow and Tara. It was great catching up with the two of them and meeting Tara's dog Olive.
Here we are trying to look cute: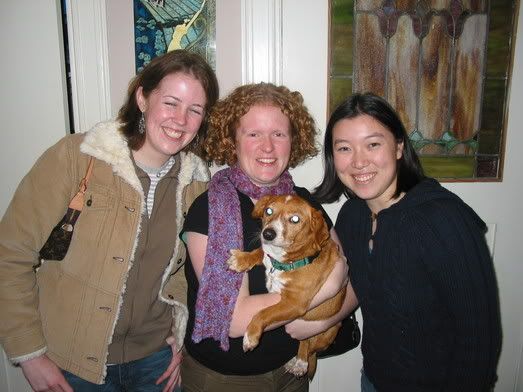 and here we are being a bit crazy: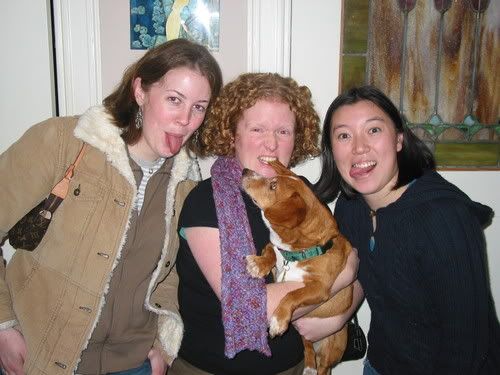 kitty progress
The three kitties get along pretty well now. Friday, all slept peacefully in Skittle's room on the futon: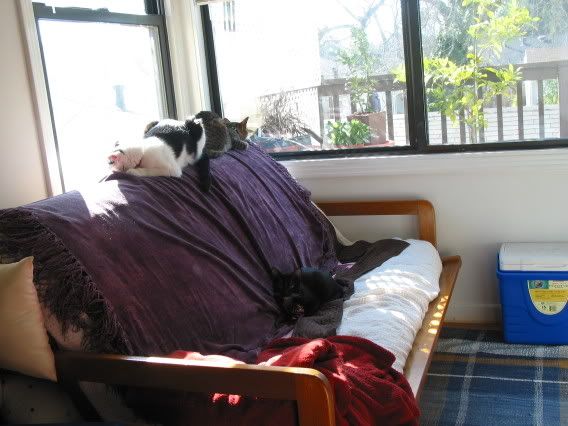 Nikko and Skittle have a ton of fun playing with each other, running around at top speed. I like it best when the little guy finally tuckers out and arrives purring at my lap ready for a nap.