Lookie at the cute little squirt of a kitty I get to cat sit for 2.5 weeks!
He's such a cute little rascal, and he's so pint sized next to bear-like nikko. Cat introductions with Skittle, Nikko, and Asha are going much quicker and much easier than with just nikko and asha. Skittle seems to want to rule the roost. He doesn't seem to realize he's a 1/3 of nikko's size. He'll charge at nikko (who normally yawns or bats back without claws as if it's a game). Asha is wary of skittle, but she doesn't go after him. She just hisses at him if he comes too close to her. I predict they'll be napping next to each other very soon.
rum cakery
As previously mentioned, this holiday I made rum cake in bundt form!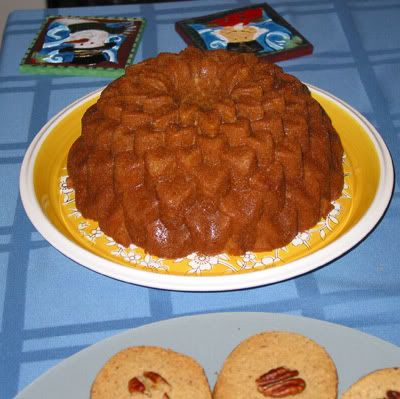 The ervy gifted me with not one, not two, but THREE Nordicware bundt pans I had been eyeing. I used this rum cake recipe to christen the pans. Oh my, what a christening. It's quite tasty. I used the full recipe in one big normal sized bundt pans. It didn't quite rise all the way to the top, but it worked out anyway!
Rum Cake Bundt recipe