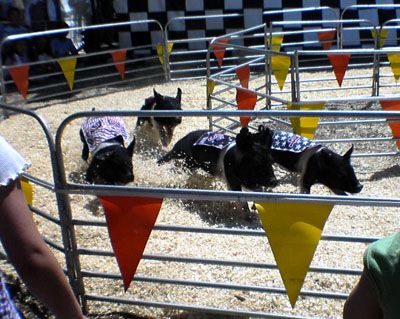 what's that? how bout this pic?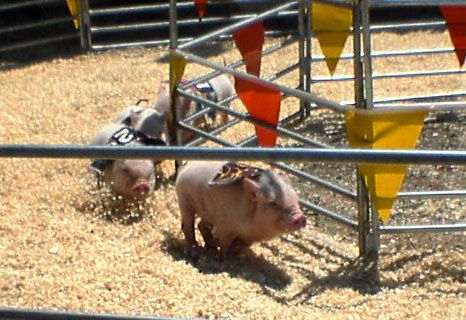 it's PIG RACING! Sean (evvie's bro), evvie and I went to the San Mateo County fair last Saturday! The pig racing was so cute! The little piggies raced around the track to eat an oreo at the end. I kept turning to evvie and saying, "I want one!" so cute!
The fair was also interesting in that you could go see all the different county fair entries for different things. I have to say, I should totally enter the spinning category next year. I only saw four skeins there! The baked goods and candies looked delish, and the wall of jars of pickles, preserves, and vinegars were delightful to see! There were other categories from place setting design, to plant growing. Here are a couple noteworthy cacti from the event:
We also happened to go to the fair the same day as the chili cook-off. At 3pm when the contestants sent their chili samples to the judges, you could walk around and sample all the contestants' chilis for free! Yum! My favorite was this absolutely wonderful chipotle chili. It was so smokey!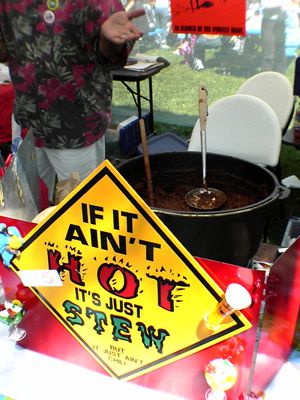 I also spotted this at the table by the San Jose Lace Museum. I've never seen lace made (besides knitting), and this looks like an utter headache to me! People must have much more patience than I was born with to be able to manage to create the pieces. Here's some lace "in progress"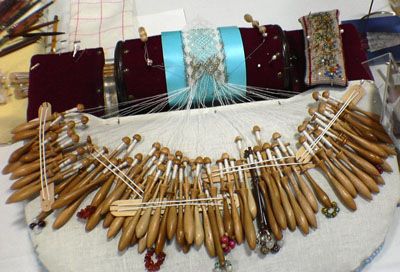 knitting
Like so many others, I fell under the spell of the
One Skein Wonder
by glampyre. I bought the pattern and decided to move it right up to the top of my list of things to knit. I wasn't quite sure what size aran weight yarn was, so I doubled the worsted merino I had left over from handpainted yarn. Even so, I didn't hit gauge. I should have moved up to a size 9 needle I think. Oh well, the fabric is a little dense, but I like it anyway. I ran out of yarn just as I was about to move on to the cuffs of the OSW, so I bought some Lamb's Pride at Uncommon Threads in Los Altos to finish it off. Overall, I like it. Next time, I'm going to knit it on size 9's and make it long sleeves.
Front (a little bunched up in this photo, but I was too
lazy
tired to take another shot):
Back: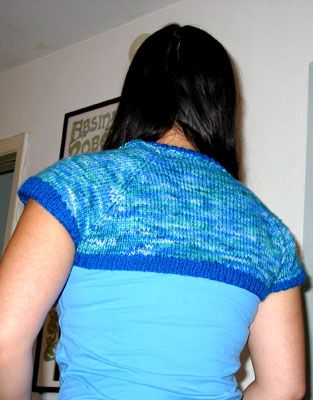 specs:
One Skein Wonder by Glampyre
2 skeins of worsted merino yarn from Handpaintedyarn.com (two strands held together)
size 8 needles and size 5 circulars
lol, btw, I think my boyf is one of the few males who doesn't wonder where "the rest of the sweater" went to...