We brought in the vegan cheese today. Remarkably, after sitting out and straining it in cheese cloth over night, it actually tastes more like cheese! The plain actually did develop a cheddar like flavor! So F'son's name and mine should be in acknowledged when their cook book comes out... hurrah!
Speaking on Cafe Gratitude, I suppose I should actually post about our trip to eat lunch there last week. We sat at a community table with 2 other folks we didn't speak to the whole meal (which was a bit awkward... I'm normally friendlier at communal tables... meh oh well)
We sat down at colorful muraled tables and were immediately given glasses with hemp cloth napkins and an inspiring bottle of water. Ours said "worth"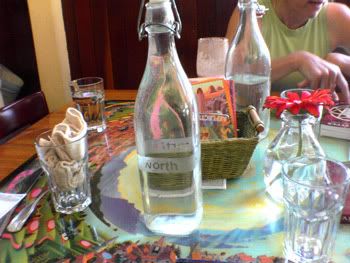 the close-up fu had me take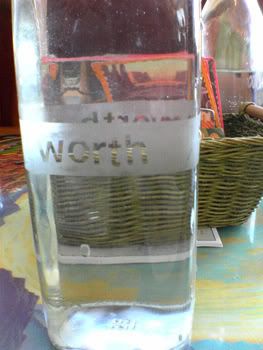 Now take a look at the
menu
. You have to get past the inspiring names to enjoy your meal... I ordered the I AM CELEBRATING which was their daily special. It was cucumber noodles with a yummy vinaigrette and stuff I can't remember, over salad. It also came with some amazing sunflower crackers with some sort of spread (now I think it was one of the flavored cheese spreads... having made some myself now).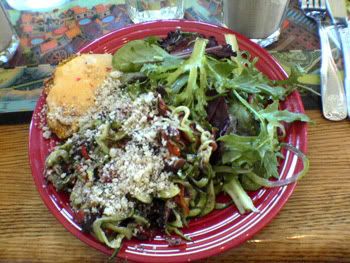 I ate it all... so scrumptious! (i liked this photo on bay area bites... so i'll bite their photographic idea)
the fuster got the I AM ABUNDANT sampler plate with live nachos, kale-sea veggie salad, stuffed mushroom, olive tapenade, live hummus, and a mini Thai coconut soup. Served with assorted live crackers and almond toast. It was an amazing array of raw food. Delicious too as the fu generously (perhaps the gratitude stuff was rubbing off on him) shared a taste of everything on his plate.
If you come here for the first time, I'd definitely recommend getting this dish.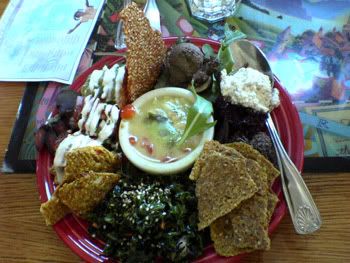 Seriously though, the live crackers are the bomb. I may have to seek out a dehydrator in Seattle just so I can make these things!
We also split an I AM GRACE Frosty coconut smoothie with young coconut milk, almonds, dates, and vanilla. Fu really liked it. I thought it was a bit rich, but I've never had a smoothie quite like it. So yes, you should try the smoothies.
Okay. I will later blog about the Burmese restaurant Fu and I went to today... it was still crowded around 1:30p and we got to eavesdrop on the old peeps next to us talking about Rachel Ray.